𝙒𝙝𝙚𝙣 𝙩𝙝𝙚 𝙎𝙩𝙖𝙧𝙨 𝙁𝙖𝙡𝙡, 𝙖𝙣 𝙖𝙣𝙜𝙨𝙩𝙮, 𝙚𝙢𝙤𝙩𝙞𝙤𝙣𝙖𝙡, 𝙝𝙚𝙖𝙧𝙩 𝙬𝙧𝙚𝙣𝙘𝙝𝙞𝙣𝙜 𝙧𝙤𝙢𝙖𝙣𝙩𝙞𝙘 𝙨𝙩𝙖𝙣𝙙𝙖𝙡𝙤𝙣𝙚 𝙗𝙮 𝙀𝙢𝙚𝙧𝙮 𝙍𝙤𝙨𝙚 𝙞𝙨 𝙇𝙄𝙑𝙀!
#𝙊𝙣𝙚–𝙘𝙡𝙞𝙘𝙠 𝙩𝙤𝙙𝙖𝙮!
BOOK BLURB
Growing up, Jude McCallister was the bane of my existence.
My best friend. Fiercest ally. The most annoying boy in the world.
At eighteen, the boy I loved to hate became the man I couldn't live without.
We were young. Madly in love. Invincible.
Strong enough to weather any storm.
Cocky enough to believe that no amount of time or distance could destroy us.
When Jude finally returned home from overseas, it should have been cause for celebration. But the man I'd fallen in love with was gone, and in his place was someone I no longer recognized.
𝐼 𝑐𝑎𝑛'𝑡 𝑑𝑜 𝑡ℎ𝑖𝑠, 𝑡ℎ𝑒 𝑛𝑜𝑡𝑒 𝑠𝑎𝑖𝑑. 𝐼'𝑚 𝑠𝑜𝑟𝑟𝑦.
Now, after six long years he's back. Only my heart … it doesn't beat just for him anymore.
Add WHEN THE STARS FALL to your Goodreads TBR➜ https://bit.ly/WTSF_GR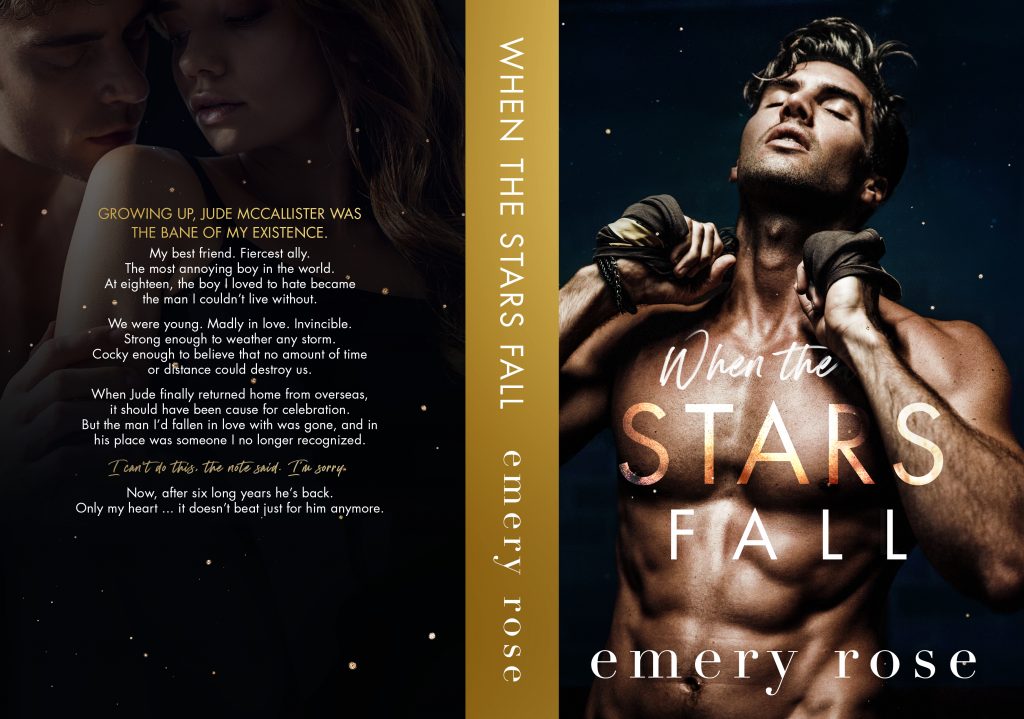 PURCHASE LINKS
Amazon US → http://bit.ly/WTSF_US
Amazon UK → http://bit.ly/WTSF_UK
Amazon CA → http://bit.ly/WTSF_CA
Amazon AU → http://bit.ly/WTSF_AU
Universal → mybook.to/WTSF
GIVEAWAY
To celebrate the cover reveal of When the Stars Fall, Emery Rose is giving away a $25 Amazon gift card! Head to her Facebook page to enter: https://www.facebook.com/EmeryRoseAuthor/
TEASERS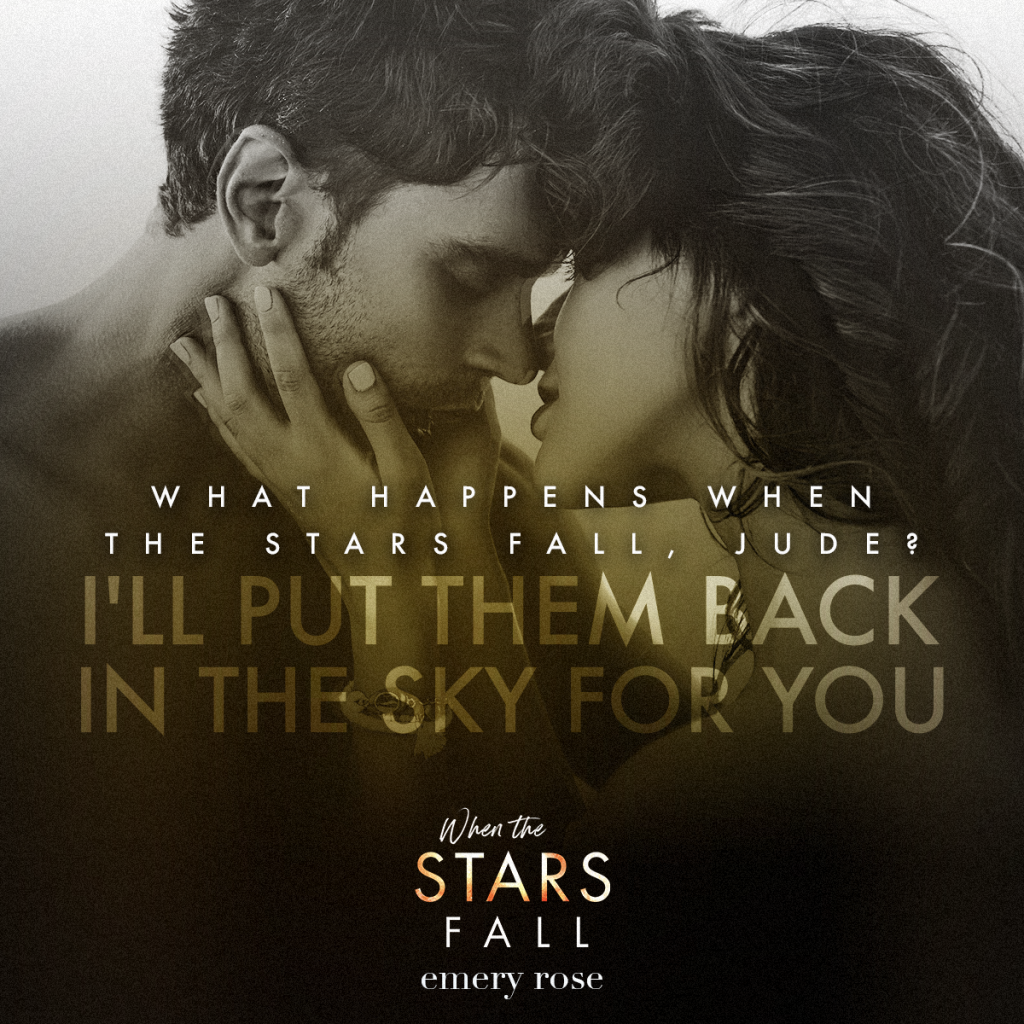 MY REVIEW:
Emotional overload! This one will gut you with the heartbreak of soulmates trying to honor their love. From the age of nine when Lila's family moves next door to Jude's they are destine to fall in love. Such a sweet young love develops between these two. Part I is all about the youngsters growth from kids to young adults. In addition to Jude and Lila there's Jude's cousin Brody who comes to live with the family and becomes a brother along with Jude's siblings, Gideon and Jesse. A great friendship develops between the kids as well as a good nature competition. This part of the story is enjoyable and the character development is a thing of delight even with the rough parts. Loads of emotion and heartbreak with Lila's family in tatters and Jude leaving for the Marines. Part II focuses on Jude's return and the impact wartime has on him. Jude and Lila try to move forward with their life together but Jude is too broken. There are a couple of things I didn't like about this part. Jude response to his issues seemed a little off to me but it advanced the story and lead to heartbreak that crushed Lila. Part III begins with a huge surprise that stunned me. Wow! I won't give it away but be warned. I didn't see that coming at all. This part is angst at its best when Jude is forced to deal with his actions and Lila struggles with her loves, past and present. It packs a punch with a new face in the mix. This is a beautiful soulmates love story so the ending is not a surprise but the journey is soul crushing and wonderful with so many emotions. Love Jude's family and look forward to more stories from this group. Gideon's a real mystery and gotta have Brody's story. This will definitely pull a few tears from you along the way by so worth the read!
ABOUT THE AUTHOR
Emery Rose has been known to indulge in good red wine, strong coffee, and a healthy dose of sarcasm. When she's not working on her latest project, you can find her binge-watching Netflix, trotting the globe in search of sunshine, or immersed in a good book. A former New Yorker, she currently resides in London with her two beautiful daughters and one grumpy but lovable Border Terrier.
AUTHOR LINKS
Reader Group | Goodreads | BookBub | Amazon | Instagram | Facebook