𝗧𝗮𝗿𝗻𝗶𝘀𝗵𝗲𝗱 𝗩𝗼𝘄, 𝗕𝗼𝗼𝗸 𝟮 𝗶𝗻 𝘁𝗵𝗲 𝗕𝗼𝘆𝘀 𝗼𝗳 𝗦𝘁. 𝗔𝘂𝗴𝘂𝘀𝘁𝗶𝗻𝗲 𝘀𝗲𝗿𝗶𝗲𝘀, 𝗮 𝗱𝗮𝗿𝗸 𝗯𝘂𝗹𝗹𝘆 𝗿𝗼𝗺𝗮𝗻𝗰𝗲 + 𝘀𝘁𝘂𝗱𝗲𝗻𝘁 𝘁𝗲𝗮𝗰𝗵𝗲𝗿 𝗮𝗴𝗲 𝗴𝗮𝗽 𝗯𝘆 𝗥. 𝗛𝗼𝗹𝗺𝗲𝘀 𝗶𝘀 𝗟𝗜𝗩𝗘!
#𝟭–𝗰𝗹𝗶𝗰𝗸 𝘁𝗼𝗱𝗮𝘆!
BLURB
I came to St. Augustine with secrets.
Running from a life that was going to kill me.
I was after a clean slate, what I found was so much worse.
And he goes by Sebastian Pierce.
He was untouchable. A king with a tarnished crown. The rich boy who collected hearts. The last thing I could ever need, but the only thing I seem to want.
He's my student. I'm his teacher.
He's my downfall. I'm his weakness.
It was wrong. Illicit. Forbidden.
It was never supposed to happen…. until it did.
ADD to GR: http://bit.ly/TarnishedVow-GR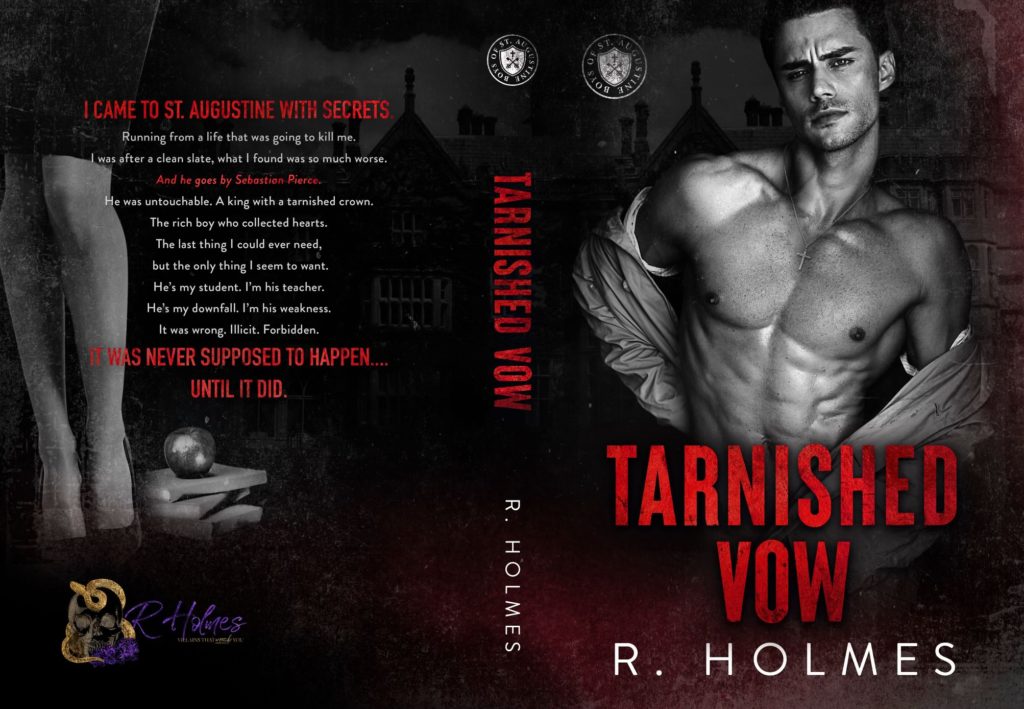 #Purchase Now!
Amazon Universal: www.bit.ly/rholmestv
➞ Read the first chapter here: https://BookHip.com/GPHTZAV
MY REVIEW:
The boys are back! I love this group of guys with their unfortunate backgrounds and ride or die love for each other. They're family and that means everything to them. And their family is growing as these hot hunks find their perfect match. Rhys found Valentina and it's Sebastian's turn. I love an age gap, taboo romance and add the student/teacher element…I'm in heaven. I had such high hopes for Bash and Teach Ambrose's romance but it didn't do it for me. It started as a bullying story but soon moved to a slooow build to love. The lust was there which was hot but I wasn't sold on their connection. It got better as the story developed and by the end I was swooning. The story picked up the threads from the first story with Ezra back in the fold. There were some weird going ons in the story. Almost too much with Presley sad drama and then the bomb Ezra dropped plus the heinous thread toward the end. I got whiplash trying to figure out what was going on. Too much! There was a new gal that popped up with a shared talent with Alec. I hope we get more of her. Pres' enemy finally popped up with destruction on his mind. The danger ramped up with tons of sadness when loved ones go down. Cue the tears! The epilogues were fab and I look forward to the next installment with this group of terrific brothers as they find their loves along with danger and intrigue. Bring on the boys!
Catch up with the series!
#1-click Immoral Confessions
AMAZON UNIVERSAL ➜ bit.ly/rholmes
Giveaway
To celebrate the release of Tarnished Vow, R. Holmes has a $25 Amazon gift card up for grabs! Head to her FB author page to enter!
Facebook: https://tinyurl.com/y9m7otbq
ABOUT THE AUTHOR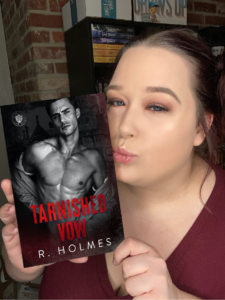 Holmes is from a small town in southern Louisiana where she lives on a farm, with her husband and two little boys. Whenever she's not chasing around the goats and her boys on the farm, she spends her time watching ridiculous amounts of Netflix and is almost always stuck with her nose in a book. She thrives on horror films, sarcasm, and reruns of Harry Potter. A perpetual night owl, you'll find her in her office locked away until the wee hours of the morning. She loves to meet her readers and discuss her latest favorite books and her upcoming projects!
AUTHOR LINKS
Facebook | Reader Group | Instagram | Newsletter | Goodreads | Amazon | BookBub | TikTok