PEMBROKE PREP by Becker Gray
Release Date: November 16th
Genre/Tropes: Fake Relationship/Bully Romance/Virgin Heroine
Add to Goodreads:
PREORDER AVAILABLE!!!
Amazon: https://amzn.to/3zIoMd3
Amazon INTL: https://bit.ly/3tJucD2
Apple Books: https://apple.co/3CBD7tA
Nook: https://bit.ly/3hZeKOt
Kobo: https://bit.ly/3hZfcfD
Google Play: https://bit.ly/3kwUbul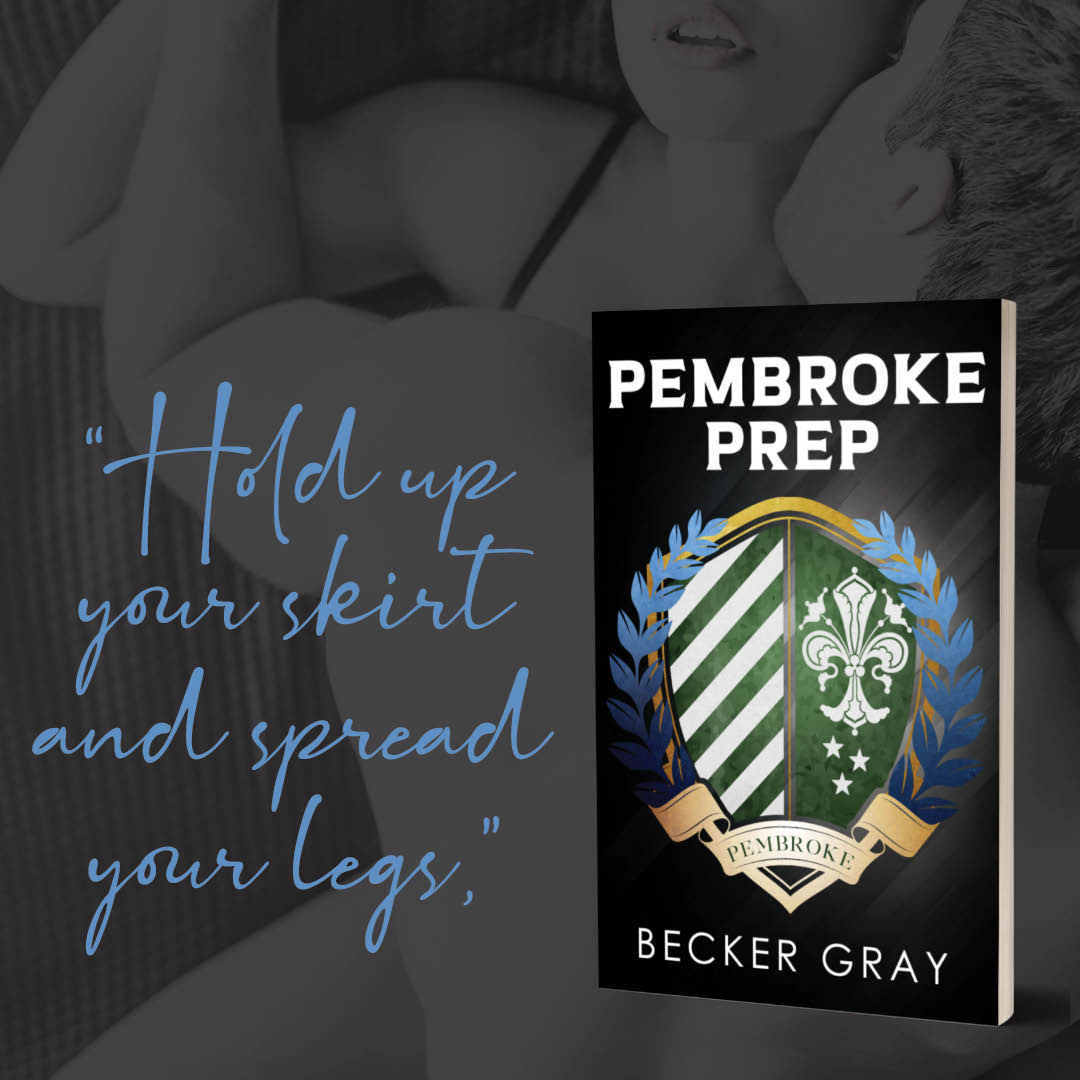 EXCERPT
"You're a giant," she told me between kisses.
My chest swelled a little. Working out meant I slayed on the field, yes, but being able to
sweep Iris off to my bed like this was pure magic. I'd endure Coach's brutal conditioning every single day for the rest of my life if it meant being able to kiss her while I carried her off to be fucked.
"You're just tiny," I said, but I couldn't hide the smugness in my tone.
"More like you're just full of yourself," she teased back, but she didn't sound upset.
I bit her jaw as we walked past the kitchen island. "You're about to be full of myself too."
She groaned, and I stopped walking, because I needed to touch her again, I needed to taste her again. Right now.
I set her on the counter, my hands already diving under her skirt to pull off her panties. I
worked them off her hips and legs, stuffing them in my pocket. Like hell was she getting those back.
"Hold up your skirt and spread your legs," I told her as I got to my knees. I was just tall
enough that when I knelt, her pussy was right where I wanted it. And so, when she finally did as I asked and pulled up her skirt, I was presented with a view that would keep my right hand busy for years.
I'd been able to glimpse her before, in the moonlight, but it was nothing like this. Nothing
like being able to see her in broad daylight. Nothing like seeing where she was pink and slick and ready for me. Nothing like being able to see her silky, scarlet curls. Yes, it was a stereotype that guys love redheaded pussy, and yes, it was still hot as hell, stereotype or not.
I didn't warm her up. I didn't kiss my way up her thigh. I didn't give her chaste, closed-
mouth kisses against her seam. Instead, I dove in like a starving man and clamped my hands over her hips to keep her still as I stroked into her with my tongue.
"Fuck, babe," I murmured into her, barely able to stop devouring her in order to get the
words out. "You taste so good." Even better than I remembered. Even better than I'd dreamed.
She was so sweet here, so very Iris—and it was a taste I was worried I'd never get enough of, given the rock-hard state of my dick.
She tried to arch as my tongue flicked over her clit, but I wouldn't let her. I held her fast and started going in earnest—fluttering, caressing, sucking—full on burying my face into her. My nose was in her curls and my lips were wet with her, and when I chanced a look up at her, she was already looking down at me with a look that fired my blood right up.
She was looking at me like I was some kind of king.
Like I was some kind of idol.
"Keaton," she whispered.
"Keep still and keep that skirt up," I ordered, going in again, abandoning myself to every
dirty kiss and lick I'd fantasized about giving this pretty ginger pussy. She was so soft and so warm here.
She was heaven, and I was going to give her heaven in return.
Blurb:
"A forbidden romance full of angst and delicious desire. You're not going to want to leave Pembroke Prep." – Amazon Top #10 bestselling author Ivy Smoak
The rich boy with a powerful family…
The new girl with her head down…
A scorching hot bully romance!
"From arrogant boys and the school that made them kings, to pleated skirts and scandalous kisses, Wicked Idol is a refreshing take on my favorite genre. I couldn't put this book down. Becker Gray is one to watch!" – Mary Catherine Gebhard, author of Heartless Hero
PEMBROKE PREP contains 3 full-length novels. Walk the halls of the most exclusive prep school alongside the band of friends called the Hellfire Club.
About the Author:
Becker Gray is the brainchild of two best friends who love rich boys in peacoats. The Hellfire Club is their first series together.
You can contact Becker at beckergray@beckergray.com.
Connect w/Becker:
Facebook: https://www.facebook.com/authorbeckergray
Amazon: https://amzn.to/3mkhO8x
Instagram: https://www.instagram.com/beckergray/
Goodreads: https://www.goodreads.com/user/show/120154153-becker-gray
Pinterest: https://www.pinterest.com/authorbeckergray/boards/
Website: https://www.beckergray.com/