💚💚 ℍ𝕆𝕋 ℕ𝔼𝕎 ℝ𝔼𝕃𝔼𝔸𝕊𝔼 💚💚
𝗦𝗮𝘃𝗮𝗴𝗲 𝗥𝗶𝘃𝗮𝗹𝘀 𝗯𝘆 𝗪𝗮𝗹𝗹 𝗦𝘁𝗿𝗲𝗲𝘁 𝗝𝗼𝘂𝗿𝗻𝗮𝗹 𝗮𝗻𝗱 𝗨𝗦𝗔 𝗧𝗼𝗱𝗮𝘆 𝗯𝗲𝘀𝘁𝘀𝗲𝗹𝗹𝗶𝗻𝗴 𝗮𝘂𝘁𝗵𝗼𝗿 𝗕𝗲𝗰𝗰𝗮 𝗦𝘁𝗲𝗲𝗹𝗲 𝗶𝘀 𝗟𝗜𝗩𝗘 𝗮𝗻𝗱 𝗙𝗥𝗘𝗘 𝗶𝗻 𝗞𝗶𝗻𝗱𝗹𝗲 𝗨𝗻𝗹𝗶𝗺𝗶𝘁𝗲𝗱! 𝗗𝗼𝗻'𝘁 𝗺𝗶𝘀𝘀 𝘁𝗵𝗶𝘀 𝗠𝗠 𝗲𝗻𝗲𝗺𝗶𝗲𝘀-𝘁𝗼-𝗹𝗼𝘃𝗲𝗿𝘀 𝗵𝗶𝗴𝗵 𝘀𝗰𝗵𝗼𝗼𝗹 𝗿𝗼𝗺𝗮𝗻𝗰𝗲!
#𝟭-𝗰𝗹𝗶𝗰𝗸 𝘁𝗼𝗱𝗮𝘆!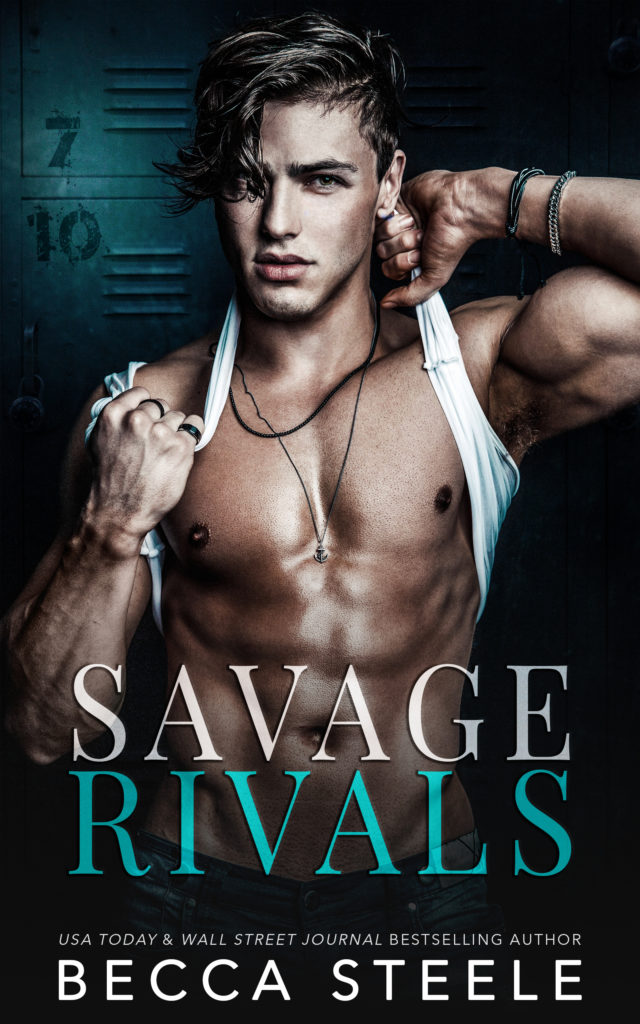 BOOK BLURB
Asher Henderson.
Captain of the Highnam Academy football team, and the bane of my existence.
As Alstone High's team captain, I've been pitted against him from the beginning, but our conflict isn't only reserved for the pitch.
Everyone knows we're enemies. From our first encounter, our rivalry has been escalating, spiralling out of control.
Until one night when everything between us changed.
He pushed me too far, and we crossed a line that should never have been crossed.
Now, I can't get him out of my head.
Can we ever be more than rivals, or are there too many obstacles in our way?
One thing I know for sure.
Things between us will never be the same again.
💚 TBR: https://bit.ly/SavageRivalsGR
PURCHASE LINK
💚 http://mybook.to/savagerivals
MY REVIEW:
Hot boys! Yum! This is a sexy enemies to lovers romance with a couple of hottie footballers with a grudge to grind. In addition to grinding it out on the pitch (football field) they also grind it out with pranks, payback and fisticuffs. Levi is the Alstone rich boy that's king of fight club and ready to take on the bad boy from the poor side of town, the hunky Asher. Their hate filled encounters lead to an attraction that neither expects. This author does a terrific job with this MM romance and the push pull of the unwanted attraction between the teen boys. There's an element of danger when the two schools elevate the pranks and revenge. I like these Alstone school romances and this author's compelling writing. I want more!
ABOUT THE AUTHOR
Becca Steele is a USA Today and Wall Street Journal bestselling author of M/F and M/M romance. She currently lives in the south of England with her husband, two kids, and a whole horde of characters that reside inside her head.
When she's not writing, you can find her reading or watching Netflix, usually with a glass of wine in hand. Failing that, she'll be online hunting for memes, or wasting time making her 500th Spotify playlist.
AUTHOR LINKS
Facebook | Becca's Book Bar | Instagram | Newsletter | BookBub | Amazon | TikTok