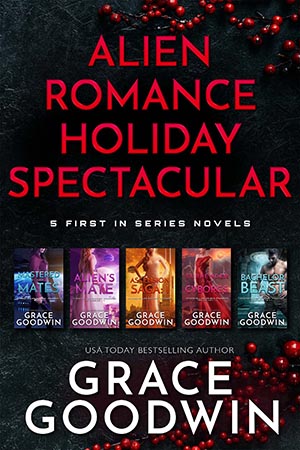 5 First in Series novels $0.99 everywhere!
Hurry! This box set will DISAPPEAR Dec 31st!
5 First in Series Novels from USAT Bestselling author Grace Goodwin in her world-wide, bestselling INTERSTELLAR BRIDES® universe! With more than 1 million copies sold, it's time to find out what you've been missing! This special holiday box set is only available for a limited time. ONE CLICK NOW!
MASTERED BY HER MATES: Earth is the newest member of the Coalition Fleet. To protect Earth from the Hive menace, the Coalition demands brides for their warriors. CIA Agent Amanda Bryant is all too eager to accept her mission: Go to space. Seduce an alien.
No NOT fall in love…
BACHELOR BEAST: The Colony warriors are having little luck attracting brides. So, what to they do? Send a huge hulking hunk to star on the hottest new reality TV show on Earth – Bachelore Beast. But what happens when this Atlan Warlord's beast finds his mate…and she's NOT a contestant? His beast only knows one word—MINE.
SURRENDER TO THE CYBORGS: She's the first bride sent to The Colony. Her mates are sexy. Intense. Possessive. Everything is going well…until the warriors start dropping dead, and if she can't figure out what's going on, her mate will be next.
THE ALIEN'S MATE: He's an Elite Hunter from Everis. He can track anyone, anywhere in the universe. He's come to Earth to hunt down a group of murderous aliens who escaped from their prison in deep space – not discover his Marked Mate. His targets are dangerous. Merciless. And they have discovered his weakness, the one female he can't live without…his human mate.
THE ASCENSION SAGA: Three sisters, hidden from the world. Protected. Cherished. Until the evil their mother fled her home world to escape catches up to them at last. Three women. One mission – leave Earth behind, claim their birthright and ascend to the throne. But they can't do it alone. They will need the help of three dominant, bossy alien warriors—whether they like it or not.
Do not miss this! One Click Now!