🖤💀 𝗛𝗢𝗧 𝗡𝗘𝗪 𝗥𝗘𝗟𝗘𝗔𝗦𝗘 💀 🖤
𝗠𝗲𝗿𝗰𝗶𝗹𝗲𝘀𝘀 𝗞𝗶𝗻𝗴𝘀, 𝗕𝗼𝗼𝗸 𝟭 𝗶𝗻 𝘁𝗵𝗲 𝗕𝗼𝗻𝗲𝘆𝗮𝗿𝗱 𝗞𝗶𝗻𝗴𝘀 𝘁𝗿𝗶𝗹𝗼𝗴𝘆 𝗳𝗿𝗼𝗺 𝗪𝗮𝗹𝗹𝘀𝘁𝗿𝗲𝗲𝘁 𝗝𝗼𝘂𝗿𝗻𝗮𝗹 𝗮𝗻𝗱 𝗨𝗦𝗔 𝗧𝗼𝗱𝗮𝘆 𝗯𝗲𝘀𝘁𝘀𝗲𝗹𝗹𝗶𝗻𝗴 𝗮𝘂𝘁𝗵𝗼𝗿 𝗕𝗲𝗰𝗰𝗮 𝗦𝘁𝗲𝗲𝗹𝗲 𝗮𝗻𝗱 𝗮𝘂𝘁𝗵𝗼𝗿 𝗖. 𝗟𝘆𝗺𝗮𝗿𝗶 𝗶𝘀 𝗟𝗜𝗩𝗘!! 𝗗𝗼𝗻'𝘁 𝗺𝗶𝘀𝘀 𝘁𝗵𝗶𝘀 𝗱𝗮𝗿𝗸 𝗰𝗼𝗹𝗹𝗲𝗴𝗲 𝗲𝗻𝗲𝗺𝗶𝗲𝘀 𝘁𝗼 𝗹𝗼𝘃𝗲𝗿𝘀/𝗯𝘂𝗹𝗹𝘆 𝗿𝗲𝘃𝗲𝗿𝘀𝗲 𝗵𝗮𝗿𝗲𝗺 𝗿𝗼𝗺𝗮𝗻𝗰𝗲!
#𝟭-𝗰𝗹𝗶𝗰𝗸 𝘁𝗼𝗱𝗮𝘆!
BOOK BLURB
They say bad things happen in threes.
The first was when I lost my parents.
The second came when I had to leave behind everything I knew to move across the world to live with my only remaining relative.
But what was life for, if not for living? So I kept moving.
Then the third thing happened, just as I was about to begin my junior year at the prestigious Blackstone University.
I caught the eye of not one, not two, but three of the most infamous guys on campus. The three guys from the wrong side of the tracks.
Saint, Mateo, and Callum.
And now that they have me in their sights, I know that there's nowhere I can hide.
There's no escape from the Boneyard Kings.
Merciless Kings is a reverse harem romance with enemies to lovers and bullying themes. This is book one in the Boneyard Kings series, and cannot be read as a standalone.
PURCHASE LINK
🖤💀 Amazon Universal: http://mybook.to/boneyardkings1
🖤💀 TBR: https://bit.ly/MercilessKings-GR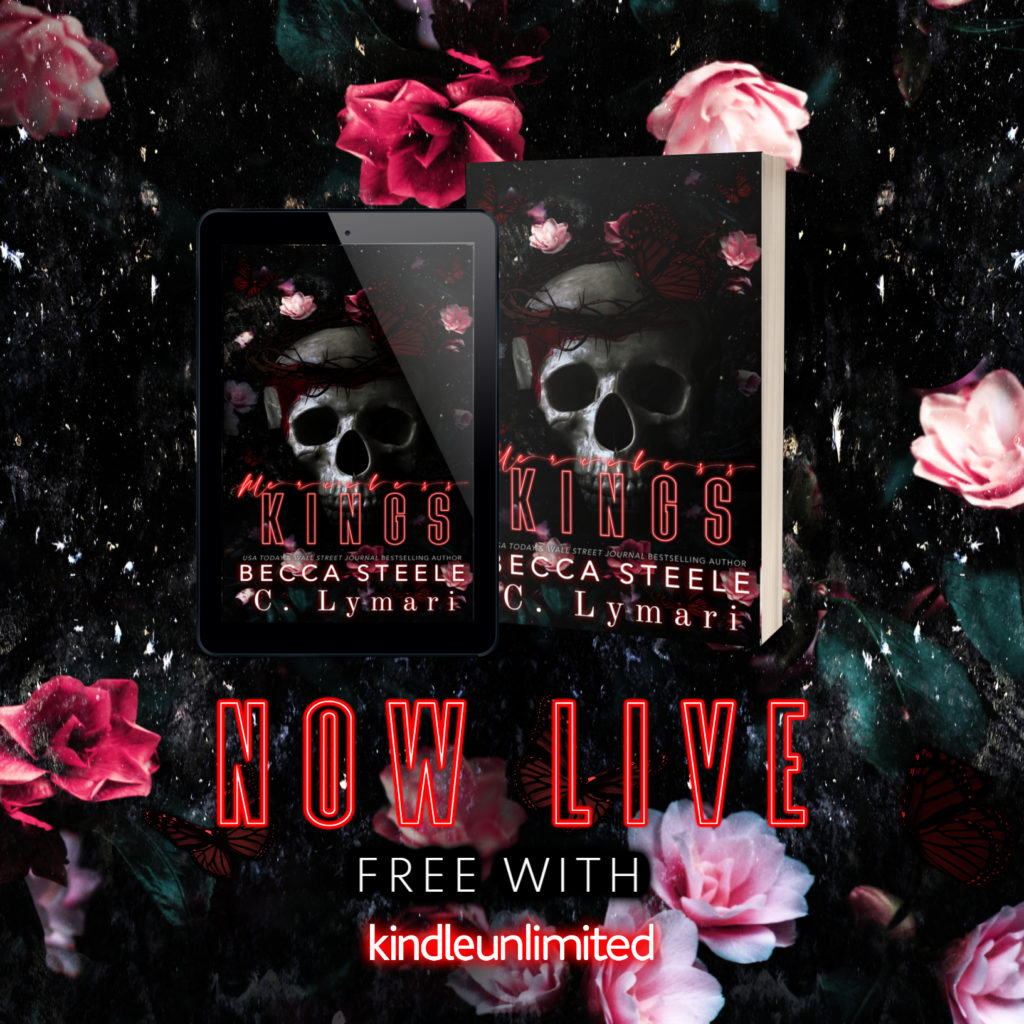 MY REVIEW:
Mystery, intrigue and dirty sex! A great start to this dark college series with a trio of bad boys and the girl they target. I really like these Boneyard Kings. Callum, the cold one, Saint, the 'good guy' and Mateo, the Latin hothead. There's a mystery with the death of their foster dad and they're on a mission to find out what happened to him and if the university dean's niece is involved. The niece, Everly, is a British transplant that tries to resist the Kings but they're just too irresistible. Yummy hot bad boys! The guys are just as smitten with her as she is with them. There's a rich verses poor element to the story with Everly one one side and the scholarship boys on the other with their junkyard life. It's a little jumbled and a bit slow at the beginning but it picks up when the guys turn up the heat and begin to play a game of cat and mouse with Everly. The sexual games are steamy as it's three against one but not really any dubcon just hot encounters. Everly becomes suspicious of her uncle and a few unusual happenings that coincide with the Kings snooping. Tons of intrigue and danger with missing students, boosted cars, drugs, rival gang and rich villains. The danger find Everly and the ending is a 'yikes' with our girl in peril as the Kings watch on. What a cliffy! I can't wait for the next installment in this sexy reverse harem story full of danger, mystery, intrigue and lusty college students.
ABOUT BECCA STEELE
Becca Steele is a USA Today and Wall Street Journal bestselling author of M/F and M/M romance. She currently lives in the south of England with her husband, two kids, and a whole horde of characters that reside inside her head.
When she's not writing, you can find her reading or watching Netflix, usually with a glass of wine in hand. Failing that, she'll be online hunting for memes, or wasting time making her 500th Spotify playlist.
BECCA STEELE LINKS
Facebook | Becca's Book Bar | Instagram | Newsletter | BookBub | Amazon | TikTok
ABOUT C. LYMARI
Claudia lives in the Chicagoland suburbs, and when she's not busy chasing after her adorable little spawn, she's fighting with the characters in her head. After not being able to keep up with them, she decided enough was enough and wrote her first novel. C. Lymari writes both sweet and dark romances that will give you all the feels. Her other talents include binge-watching shows on Netflix and eating all kinds of chips.
C. LYMARI LINKS
Facebook | Facebook Group | Instagram| Goodreads | BookBub | Amazon | TikTok | Newsletter