🖤 ℍ𝕠𝕥 ℕ𝕖𝕨 ℝ𝕖𝕝𝕖𝕒𝕤𝕖 🖤
𝗧𝗵𝗲 𝗪𝗿𝗼𝗻𝗴 𝗞𝗶𝗻𝗱 𝗼𝗳 𝗟𝗼𝘃𝗲 𝗯𝘆 𝗟.𝗣. 𝗟𝗼𝘃𝗲𝗹𝗹 𝗮𝗻𝗱 𝗦𝘁𝗲𝘃𝗶𝗲 𝗝. 𝗖𝗼𝗹𝗲 𝗶𝘀 𝗟𝗜𝗩𝗘!! 𝗗𝗼𝗻'𝘁 𝗺𝗶𝘀𝘀 𝘁𝗵𝗶𝘀 𝗱𝗮𝗿𝗸 𝗰𝗮𝗽𝘁𝗶𝘃𝗲 𝗿𝗼𝗺𝗮𝗻𝗰𝗲!
#𝟭-𝗰𝗹𝗶𝗰𝗸 𝘁𝗼𝗱𝗮𝘆!
BLURB
My life went pitch black with a single command from the man I thought I loved— "Take her as collateral".
I was a naïve college student, delivered into the violent world of Jude Pearson, an infamous criminal and murderer. And the only thing I could think about was escape. But with each passing day, the dark beauty that lurked within his moss-green eyes pulled me in a little deeper.
Each rough touch, each gruff demand, dragged me deeper beneath his cold waters until I no longer wanted to break the surface. And how was I supposed to make it out alive when I craved the touch of the man I knew would kill me?
I convinced myself I wouldn't. That maybe neither of us would…
Add to your Goodreads TBR➜ https://bit.ly/TWKOL-GR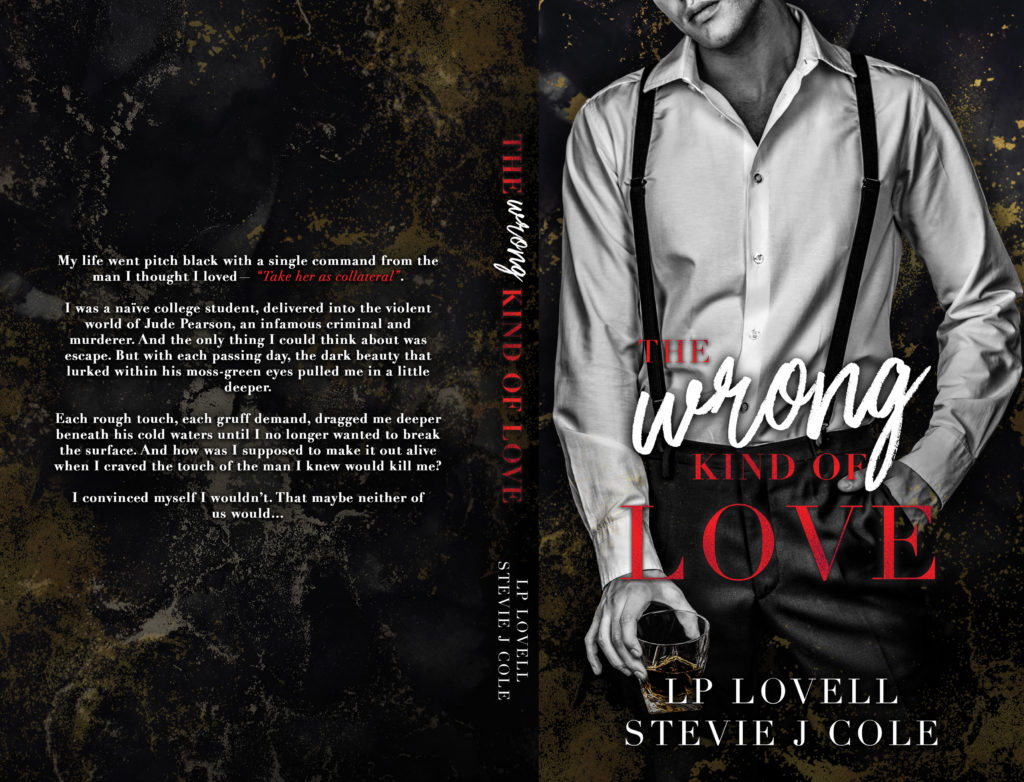 PURCHASE LINK
Amazon Universal: https://books2read.com/u/mlAxpv
ABOUT L.P. LOVELL
LP Lovell is a number one best selling author of New Adult, Sports romance and contemporary romance. This ginger Brit suffers from a total lack of brain to mouth filter and is the friend you have to explain before you introduce her to anyone, and apologise for afterwards.
CONNECT WITH L.P. LOVELL
Instagram | Facebook | Facebook Reader Group | Website | Amazon | Twitter | BookBub | Goodreads | TikTok | NL Signup
ABOUT STEVIE J. COLE
Stevie J. Cole is a romance author of raw, angst-filled love stories that will stick with you long after you've turned the last page.
CONNECT WITH STEVIE J. COLE
Instagram | Facebook | Facebook Reader Group | Website | Newsletter | BookBub | Goodreads | TikTok | Amazon