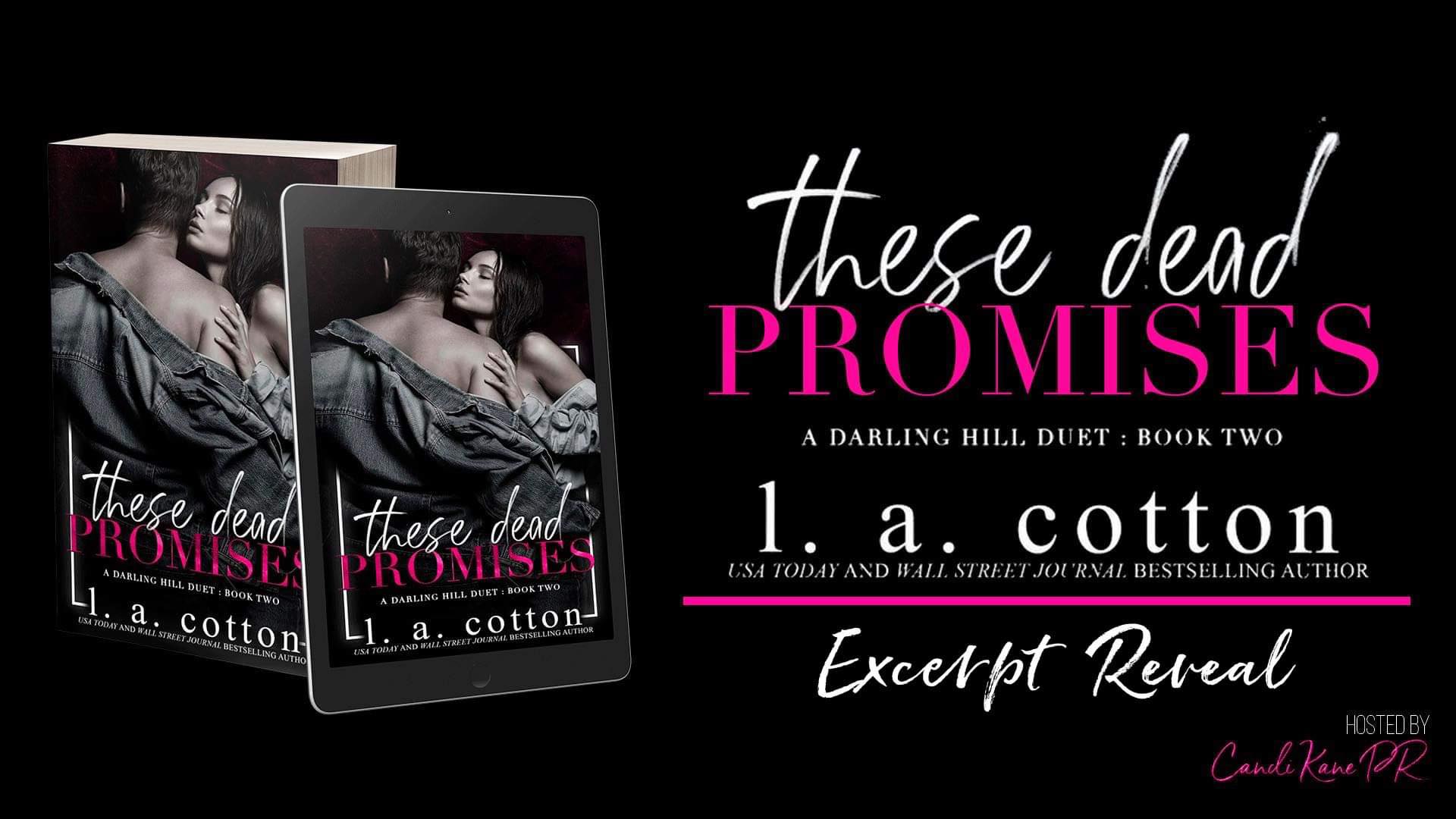 THESE DEAD PROMISES (Darling Hill Duet book 2)
by L.A. Cotton
Release Date: April 19th
Genre/Tropes: High School Romance/Childhood Friends/Enemies to Lovers/Football Romance
Add to Goodreads:
PREORDER IS AVAILABLE!!!
http://books2read.com/thesedeadpromises
FREE PREQUEL!!!
These Dark Hearts: A Darling Hill Prequel is AVAILABLE NOW!
eBook: books2read.com/TheseDarkHearts
Audio: bit.ly/TheseDarkHeartsAudio
START THE DUET WITH #1, THESE DIRTY LIES!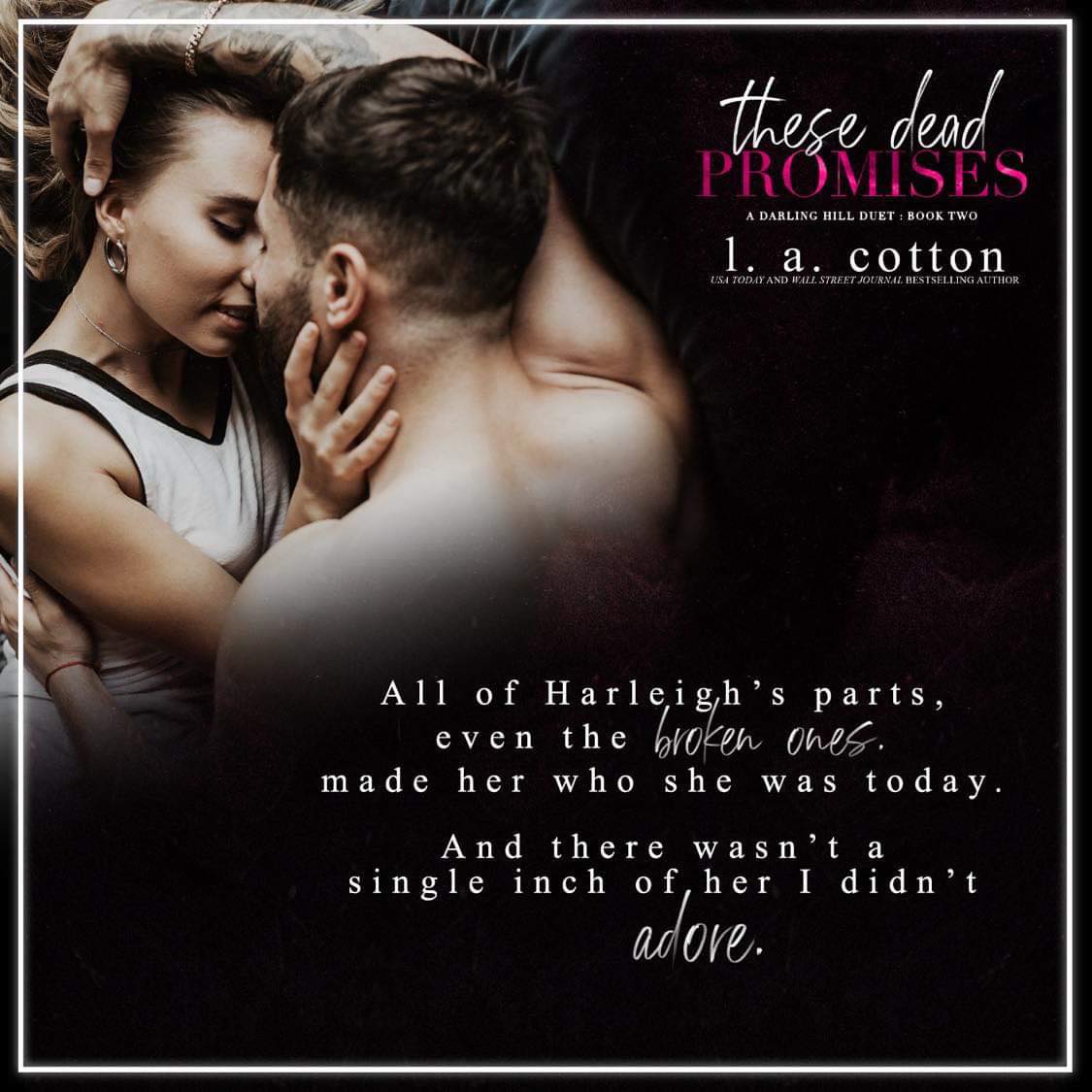 Excerpt:
"You came for me," she whispered.
"Well yeah, you're my girl, B." I'll always come for you.
Silence settled between us, but it was lighter now. Strained but lighter. The need to fix this, to fix her still burned through me, gnawing my bones like acid. But there was no magic cure, no quick antidote for this. It was a part of who she was. Just another part for me to love, to understand and cherish.
Because all of Harleigh's parts, even the broken ones, made her who she was today. And there wasn't a single inch of her I didn't adore.
"How are you feeling? About the game?"
I gazed down at her. "It's just a game, Harleigh." You're more important.
"We both know that's not true, Nix. It's your chance to get out of this place. This life." Exhaustion clung to her words making them heavy.
"Can I tell you something?" I whispered.
Harleigh turned to me, putting us face to face. "Anything." She smiled. A small uncertain smile, but it was enough.
Enough that I said, "Going to college… leaving The Row… playing for Albany U… it all fucking terrifies me."
"It does?" No judgment shone in her eyes, only mild surprise.
"Yeah. It freaks me the fuck out."
"But you're so good, Nix."
"Here. I'm good here. But it's college, B. What if I don't fit in there? What if I'm not good enough?"
What if I was the boy with the sad life story? The outcast? The charity case?
She leaned up, touching her head to mine and inhaled a shaky breath. "Isn't it better to have tried than to always wonder what if?"
A small chuckle left my lips. "You make it sound so easy."
"You're good enough, Nix." Her eyes drilled into mine, the flecks of dark green hypnotic. "And you're worthy. You deserve this. You deserve a shot at something good, something better."
"You do too, you know? You deserve the world." And I wanted to give it to her.
"I can't see that far yet." She dropped her gaze, leaving a cold chill in my veins.
"Birdie, look at me." I angled her face to mine. "If you can't see it yet, I'll see it for the both of us."
Blurb:
Phoenix Wilder is fighting.
For the girl he loves and the future he isn't sure he deserves.
But he'll do it for her.
His Birdie.
His anchor.
The only girl ever to see him for who he really is.
Harleigh Wren Maguire is trying.
For the boy she loves and the future she thought was stolen from her.
But she'll do it for him.
Her protector.
Her heart.
The only guy to ever make her feel worth something.
But Harleigh and Nix will have to figure out what they want and what they're willing to sacrifice before they can chase their dreams of a better life.
Because sometimes love isn't enough.
And the promises they made could end up nothing more than bittersweet memories.
* 𝘛𝘩𝘦𝘴𝘦 𝘋𝘦𝘢𝘥 𝘗𝘳𝘰𝘮𝘪𝘴𝘦𝘴 𝘪𝘴 𝘵𝘩𝘦 𝘴𝘦𝘤𝘰𝘯𝘥 𝘣𝘰𝘰𝘬 𝘪𝘯 𝘕𝘪𝘹 𝘢𝘯𝘥 𝘏𝘢𝘳𝘭𝘦𝘪𝘨𝘩'𝘴 𝘥𝘶𝘦𝘵. 𝘐𝘵 𝘮𝘶𝘴𝘵 𝘣𝘦 𝘳𝘦𝘢𝘥 𝘢𝘧𝘵𝘦𝘳 𝘛𝘩𝘦𝘴𝘦 𝘋𝘪𝘳𝘵𝘺 𝘓𝘪𝘦𝘴. 𝘋𝘶𝘦 𝘵𝘰 𝘮𝘢𝘵𝘶𝘳𝘦 𝘤𝘰𝘯𝘵𝘦𝘯𝘵 𝘵𝘩𝘢𝘵 𝘴𝘰𝘮𝘦 𝘳𝘦𝘢𝘥𝘦𝘳𝘴 𝘮𝘢𝘺 𝘧𝘪𝘯𝘥 𝘥𝘪𝘴𝘵𝘳𝘦𝘴𝘴𝘪𝘯𝘨, 𝘵𝘩𝘪𝘴 𝘣𝘰𝘰𝘬 𝘪𝘴 𝘳𝘦𝘤𝘰𝘮𝘮𝘦𝘯𝘥𝘦𝘥 𝘧𝘰𝘳 𝘳𝘦𝘢𝘥𝘦𝘳𝘴 17+
About the Author:
Author of over thirty mature young adult and new adult novels, LA COTTON is happiest writing the kind of books she loves to read: addictive stories full of teenage angst, tension, twists and turns.
Home is a small town in the middle of England where she currently juggles being a full-time writer with being a mother/referee to two little people. In her spare time (and when she's not camped out in front of the laptop) you'll most likely find LA immersed in a book, escaping the chaos that is life.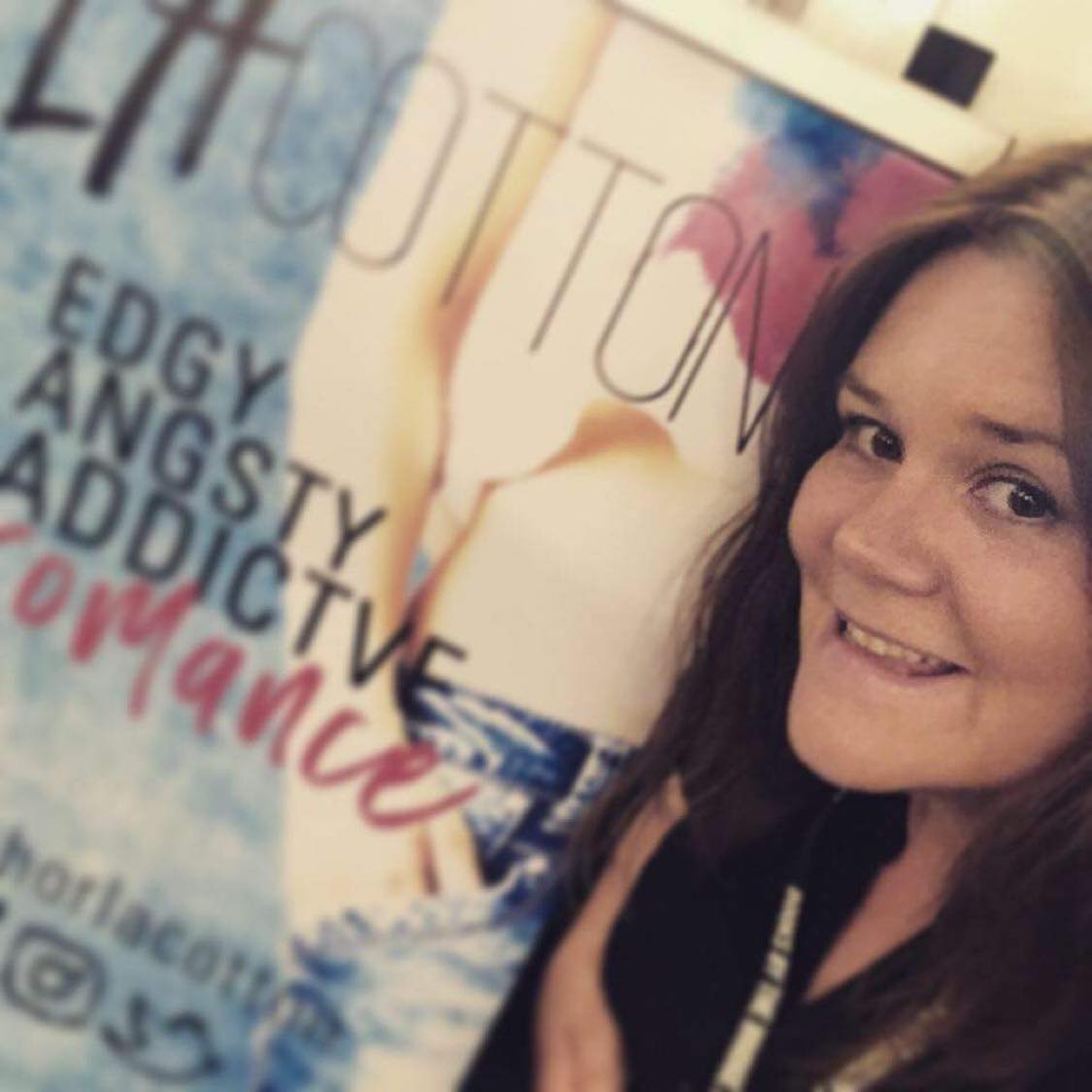 Connect w/L.A. Cotton:
Website: https://www.lacotton.com
Facebook: https://www.facebook.com/authorlacotton
Facebook Group: https://www.facebook.com/groups/LACottonReadersGroup
Twitter: https://twitter.com/authorlacotton
Instagram: https://www.instagram.com/authorlacotton
B+M: https://bookandmainbites.com/authorlacotton
Goodreads: http://geni.us/T95Lbk
Amazon: https://amazon.com/author/lacotton
Bookbub: https://www.bookbub.com/authors/l-a-cotton
TikTok: https://www.tiktok.com/@authorlacotton
NL Signup: lacotton.com/subscribe