ALL THE LITTLE THINGS by Rachel Leigh
Release Date: May 12th
Genre/Tropes: New Adult Romance/Brother's Best Friend/Friends to Lovers
Add to Goodreads:
PREORDER IS AVAILABLE!!!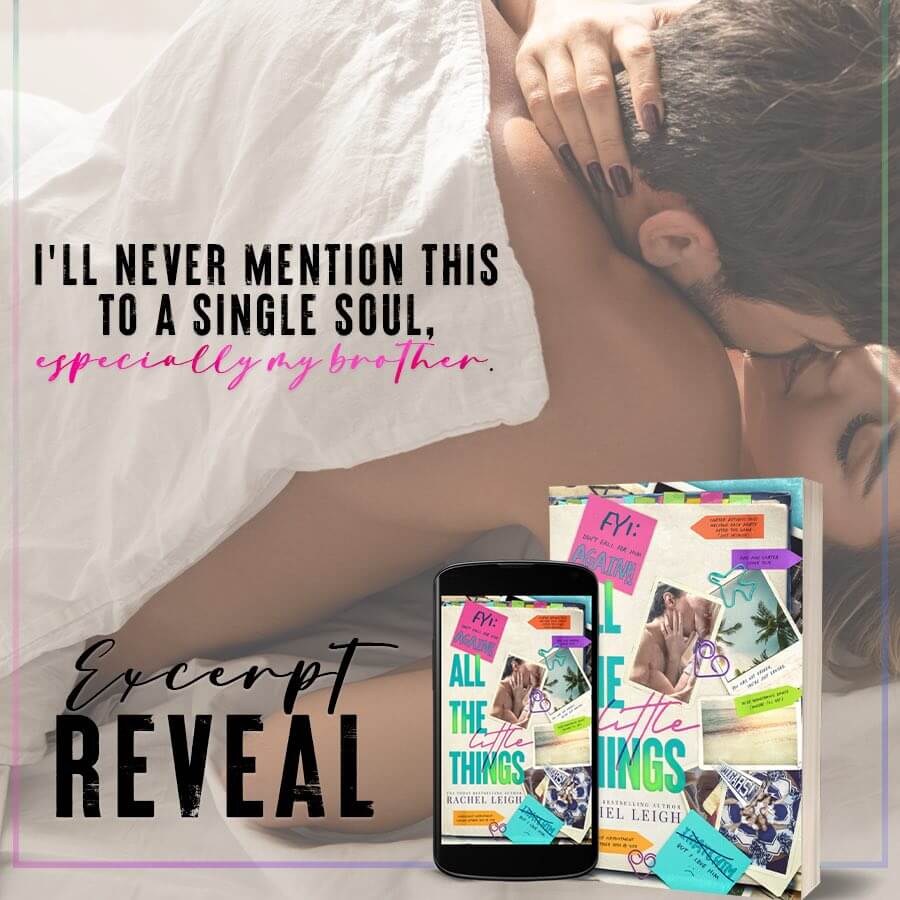 Excerpt:
I open Carter's bathroom door and gasp at the sight in front of me. My hand flies over my mouth, and while I should turn around and run, something holds me in place.
"Fuck, Kit." Ryker shrieks as he grabs a towel off the sink and attempts to cover himself. I say attempt because it's a washcloth, not an actual towel, and his erect dick is no match for the squared cloth.
"I'm…I'm so sorry."
Walk away, Kit. Go.
Still standing here, I gawk at his mesmerizing form. He's completely naked from head to toe. My eyes trail down the flesh of chest to his taut abs.
Ryker in all his glory who, only seconds ago, had his hand wrapped around himself, masturbating in my brother's bathroom.
"I had no idea you were in here. I wouldn't have interrupted if I'd known you were… in here." My mouth draws back, tightening the cords of my neck.
Ryker bends over to grab his boxers off the floor, giving me a perfect view of his ass in the reflection of the mirror. I chuckle a little as he curses and slides them on. "You still didn't tell me why you're here."
"I came for a razor."
I'm not sure I'll ever get that image out of my head. I'm not sure I ever want to. Ryker is big. Like, scary big. I don't have much to compare it to, but I've watched porn, I've got a dildo, and it's nothing like that monstrous thing between his legs.
"Kit," Ryker snaps. My eyes trail back up his body to his face and my cheeks flush with embarrassment when I realize I was literally staring at his crotch. I wipe my hand across my mouth. No drool. Thank God. "You can grab a razor. I was just getting ready to take a shower."
"I can see that." I press my lips together firmly, choking on a laugh.
He snaps the waistband of his boxers and looks at me with a stern expression. "Are you laughing at me?"
"No," I shake my head, biting back more laughter, "I've just…never been in this position before, and I'm not really sure what to say."
"Yeah. Well, that makes two of us. How about if you start with, I'll never mention this to a single soul, especially my brother."
"Ok. I'll never mention this to a single soul, especially my brother."
There's a brief moment of silence before Ryker breaks it. "Well, this is awkward."
I'm not sure who's more embarrassed right now, him or me.
I spot a bag of razors behind him on the sink vanity, so I walk deeper into the bathroom. It's a small space, and I'm on the verge of suffocation as I reach behind him and grab the bag. "Scuse me. Sorry."
He doesn't even attempt to move. Just squares his shoulders and remains in my way. I can feel my robe dipping down, and when I look in the mirror, I can see my breasts on full display. My arm brushes across the side of his stomach and when I've got the bag in hand, I look up at him, frozen in place.
His eyes, warm and seductive, peer down on me, and he cracks a smile.
I immediately adjust my robe and give him a quick smile of my own before hurrying my ass out of that room.
As soon as I hit the hall, my back collides with the wall. I take in a deep breath, exhaling slowly.
My god what a gorgeous sight.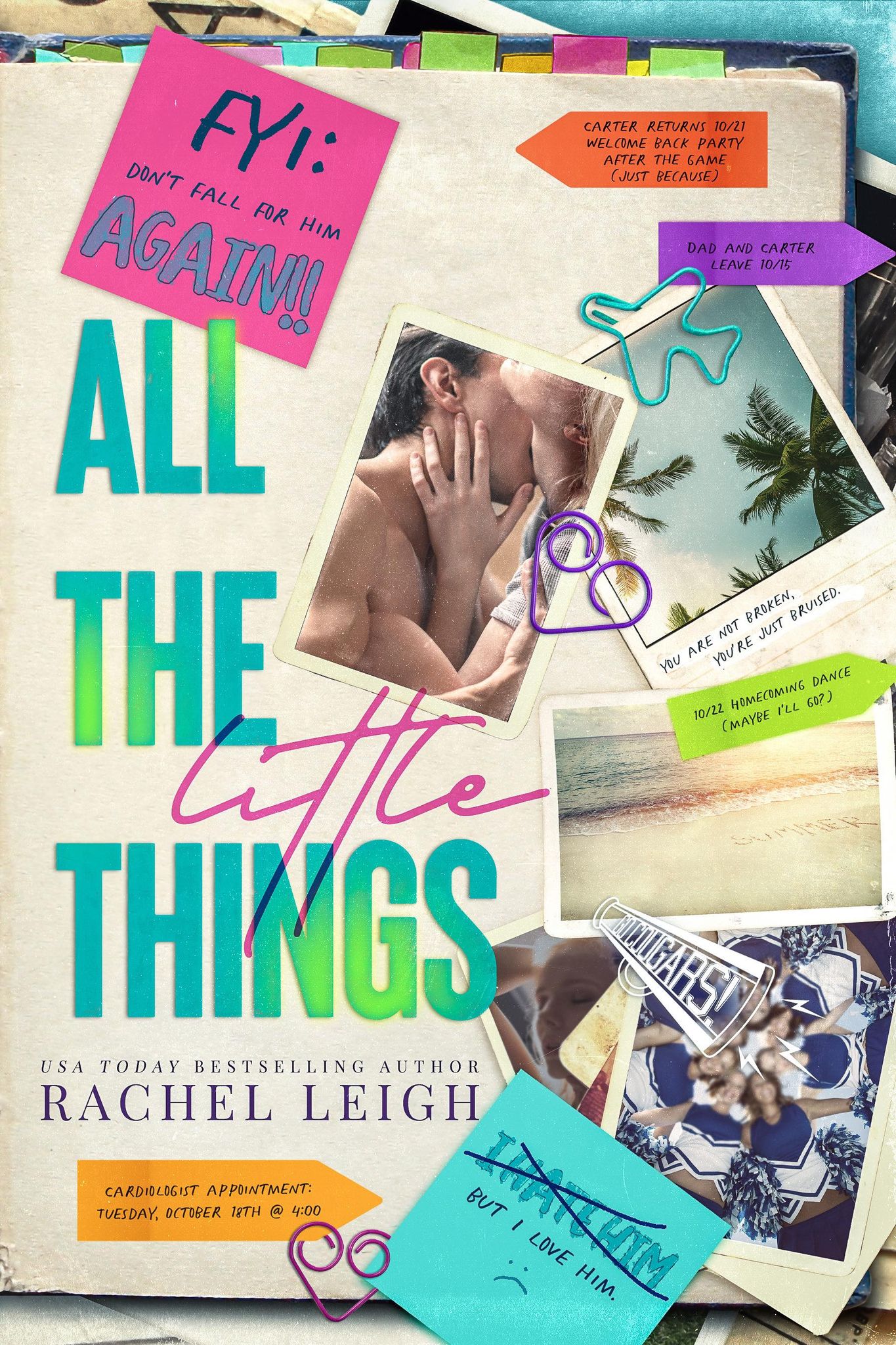 Blurb:
Four years ago my life was forever changed.
One kiss.
One moment.
Five words.
"Enjoy all the little things."
That's what Ryker said the night before he vanished from our lives for good.
So that's what I did. I lived each day like it was the last—embracing all life had to offer.
Now he's back in town and staying with me as a favor to my brother.
Being alone with Ryker is dangerous.
His eyes intoxicate me.
His touch tempts me.
He doesn't look at me like I'm a little girl anymore.
And I'm ignoring the fact that he's my brother's best friend.
He dared me to live.
I dared him to love.
The first kiss almost killed me.
But the second one brought me back to life.
About the Author:
Rachel Leigh is a USA Today bestselling author of new adult and contemporary romance. You can expect twists and turns, bad boys, strong heroines, and an HEA.
Rachel lives in leggings, overuses emojis, and survives on books and coffee. Writing is her passion. Her goal is to take readers on an adventure with her words, while showing them that even on the darkest days, love conquers all.
Connect w/Rachel:
Website: www.rachelleighauthor.com
Bookbub: bookbub.com/profile/rachel-leigh
Goodreads: https://www.goodreads.com/author/show/19155638.Rachel_Leigh
IG: https://instagram.com/rachelleighauthor
Facebook: https://www.facebook.com/rachelleighauthor/
Amazon: http://www.amazon.com/Rachel-Leigh/e/B07SSK8P2F
Readers Group: http://bit.ly/rl_ramblers
Rachel's Ramblings Newsletter: https://bit.ly/rl_news