QUEEN OF HEARTS (The Wonderland Trilogy #2) by Alta Hensley
Release Date: July 5th
Genre/Tropes: Billionaire Romance/Virgin Romance/Protector
Add to Goodreads:
https://www.goodreads.com/book/show/60756752-queen-of-hearts
PREORDER IS AVAILABLE!!!
Amazon: https://amzn.to/3Aysnw5
Amazon INTL: https://bit.ly/3nWTwUg
Apple Books: https://apple.co/38fy4VJ
Barnes & Noble: https://bit.ly/3KqKjNx
Kobo: https://bit.ly/3xndGwa
Google Play: https://bit.ly/3O2YZ7M
START THE TRILOGY WITH #1 KING OF SPADES!!!
Amazon: https://amzn.to/3L2GL4s
Amazon INTL: https://geni.us/KingofSpades
Apple: https://geni.us/KoS-APPLE
Nook: https://geni.us/KoS-NOOK
Kobo: https://geni.us/KoS-KOBO
Google Play: https://geni.us/KoS-GOOGLE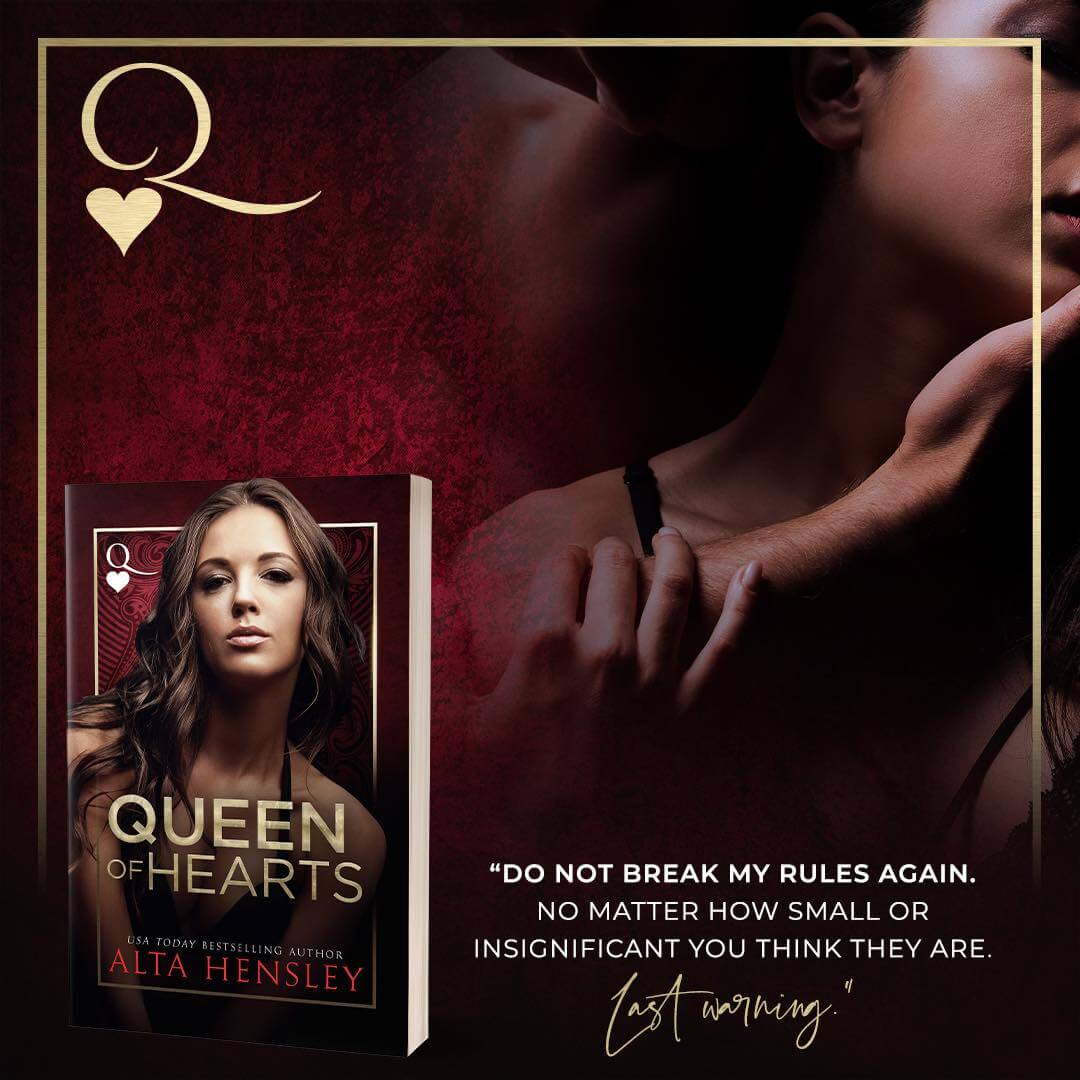 EXCERPT
"Do not break my rules again. No matter how small or insignificant you think they are. Last warning."
Lyriope stares up to me with wide eyes. Eyes of shock rather than fear. She parts her lips to help her gain the air that I restrict, be she never struggles. "Or what?" she squeaks out.
"I can be good, and I can be evil." I squeeze her neck more. "You want the good. Trust me on that. Don't try to pull out the evil by trying to prove something. Stop engaging in a battle of wills."
Slowly I lean into her, kiss her full on the lips, hungry for the taste of her. Squeezing her neck a little tighter but making sure her breaths can escape her pouty lips, I dance my tongue with hers.
Not wanting to, I pull away, releasing my choke on her. "You aren't in control here. I am."
Grabbing her by the hand, I walk us quickly back to the villa. I know if I don't, I will reveal just how out of control I actually feel.
I've also come to realize one big fact…
I want to fuck her.
I need to fuck her.
Maybe if I do, she won't have so much power over me. Maybe once I have a taste, I won't feel so ravenous all the time. I have to do something. Anything.
I'm done waiting. I'm done playing games. I'm done restraining myself.
I want to be inside her tight little cunt.
But if I do claim what will ultimately be mine, I sure as fuck am not going to do it for her first time in the mud by the river. I'll save that kind of dirty for another time.
No, Lyriope deserves more. She deserves to have her virginity taken in a more dignified way. She's a queen, and she deserves a man who can worship that pussy for the first time.
I'll elect myself to be that man. Fuck yes, I will. But not here.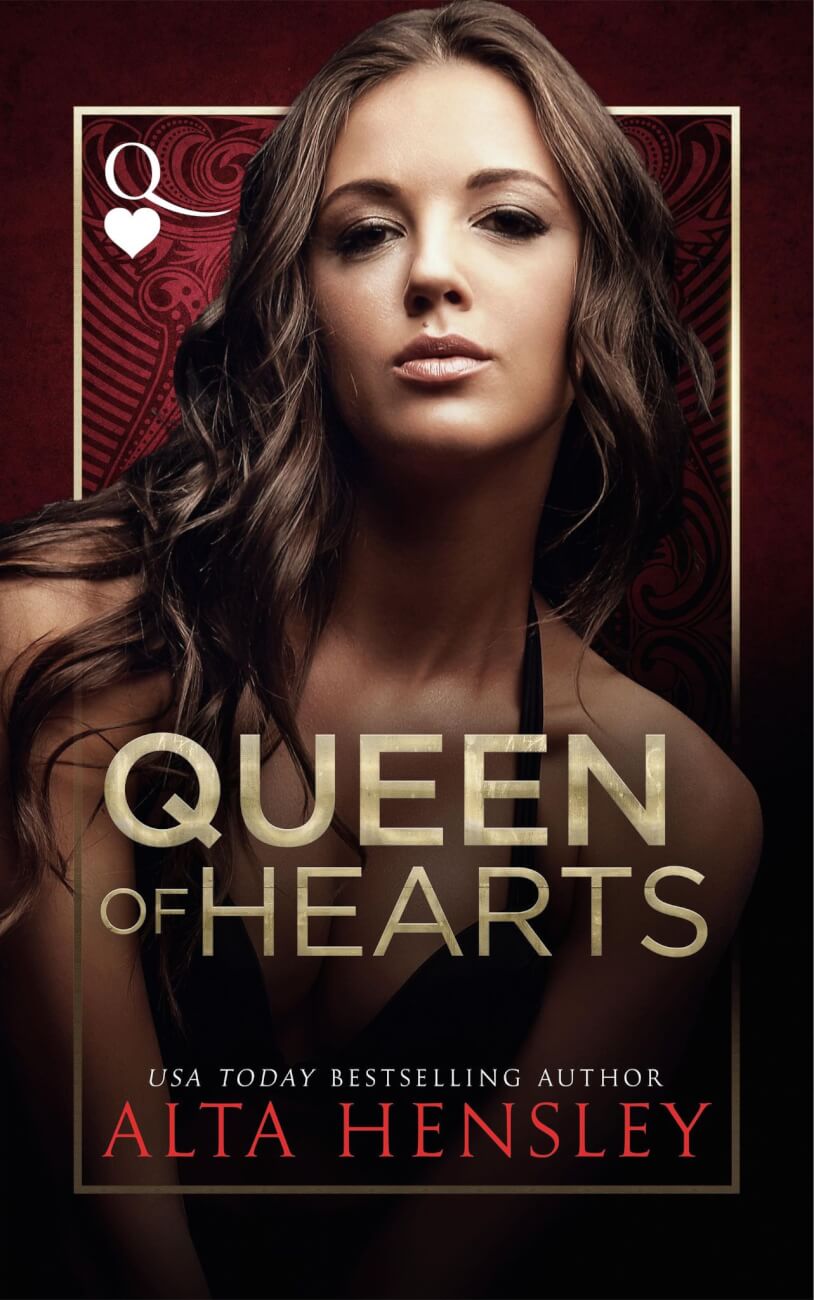 Blurb:
No matter how far I run, Nick Hudson finds me.
I'm a pawn in a twisted game of power and revenge. And he's a masterful player.
He's going to hold me and hurt me, protect me and punish me. In a dangerous world of wealth, decadence, and sin, I have no choice but to sink into to the arms of my enemy.
There's a price to be paid, though. I must surrender control to enter this new wonderland of seduction. And I must learn to find strength for the fight that's coming. Being a Morelli has never been so dangerous.
About the Author:
Alta Hensley is a USA TODAY bestselling author of hot, dark and dirty romance. She is also an Amazon Top 100 bestselling author.
Being a multi-published author in the romance genre, Alta is known for her dark, gritty alpha heroes, sometimes sweet love stories, hot eroticism, and engaging tales of the constant struggle between dominance and submission.
Connect w/Alta:
Website: https://www.altahensley.com/
Facebook:
www.facebook.com/altahensleyauthor
FB Readers Group: https://www.facebook.com/groups/886919881448795/
Instagram: https://instagram.com/altahensley
Twitter: https://twitter.com/altahensley
Amazon: https://www.amazon.com/Alta-Hensley/e/B004G5A6LI
Goodreads: https://www.goodreads.com/author/show/4491649.Alta_Hensley
BookBub: https://www.bookbub.com/authors/alta-hensley
TikTok: https://vm.tiktok.com/ZTdm23Vr3/