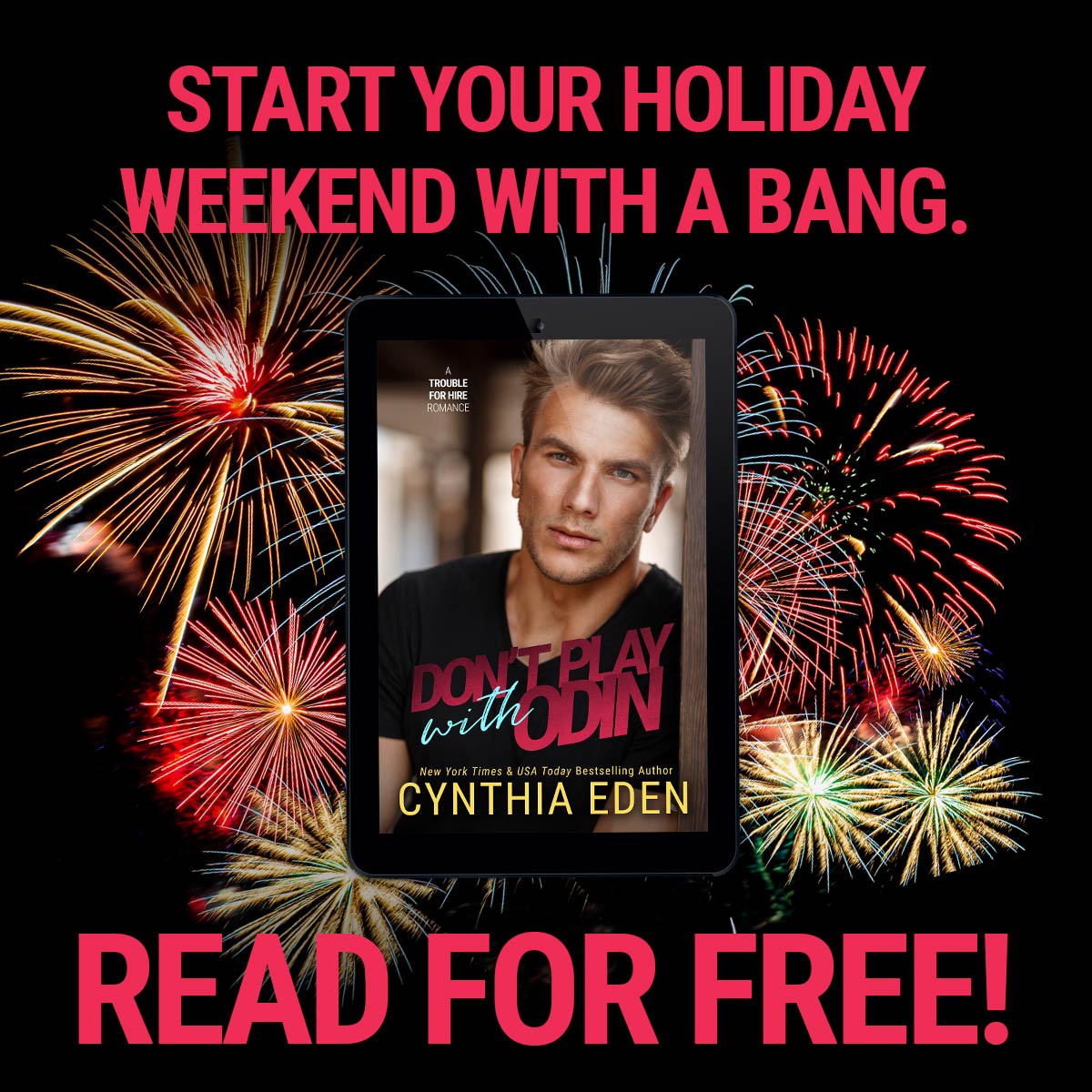 Big, bad, and currently out of his element…

Odin Shaw thought he'd spend his life on a battlefield. But fate had other plans, and now the former Special Forces operative has just landed a new job at his best friend's PI office. It's one hell of a life change, and the giant "Viking" is trying to adjust, fast, but then she walks into his life.

Delicate, beautiful, and hunting a killer…

Maisey Bright has been following the news. She knows that the small PI firm just helped track a killer and get the perp locked away—so Maisey figures that the towering man sitting behind the massive desk will be perfect solution for her current predicament. The cops don't believe her story, so Maisey has no choice. She wants to hire Odin. The job in question? Well, she needs him to help her find proof—irrefutable evidence—that her next-door neighbor is a serial killer.

The gorgeous ones are always a little bit crazy…

Odin figures the case will be a snap. He'll prove that Maisey's neighbor is most definitely not a serial killer. He'll do it in record time, and he'll score some extra cash for the PI firm. Maybe he'll even score some points with the lovely—but obviously way too crime-enthusiast-obsessed—Maisey. Piece of cake.

It's not a piece of cake. It's a freaking nightmare.

When Odin steps into Maisey's world, things seem off from the very beginning. Her neighbor is suspicious as hell, and when Maisey is nearly kidnapped after leaving her job, Odin realizes there is much more to the case than meets the eye. A whole lot more. He stays at Maisey's place to protect her—and to keep an eye on her neighbor. But the close proximity to the maddening Maisey stirs a fierce desire inside of Odin. Maisey is smart, off-beat, sexy…and when he kisses her, Odin is a goner.

But first, the killer…

Odin and Maisey set off to uncover the truth about her neighbor, and as they dig deeper into the disappearances of three wome, Odin begins to suspect that Maisey may be dead right. He also realizes that he is falling for a woman who now seems be the target of a killer. Looks like it might be time for Odin to go to battle once more. Because there is no way—no way—that anyone will hurt Maisey.
Get your FREE copy at:
A decade he's been planning his revenge, but one phone call changes everything…
Ten years ago they brutally killed his wife while he was tied up, forced to watch, then they got off scot-free. A decade he's been planning his revenge. One phone call, and now everything's changed. They're after her twin sister, and Theo's the only one who can help her.
Adult romance with triggers.
FREE download https://dl.bookfunnel.com/8636…
6 FREE BOOKS!
For the first time, get these All American Boy Series books for FREE on Kindle and Kindle Unlimited!
Start your holiday weekend off with a BANG and a BOOM!
Download now:
The Boyfriend Checklist by Sierra Hill
The Boy Upstairs by Amanda Shelley
Oh Boy! by Hope Irving
The Boy Under the Gazebo by S.L. Sterling
https://geni.us/TheBoyUndertheGazebo
The Boy I Loved by Leanne Davis
https://www.books2read.com/theboyiloved
The Boy I Shouldn't Want by Stephanie Rose
Freak is FREE for a limited time!

A man with psychological barriers and an inability to trust. A woman with a heart big enough to save them both. An evil so sinister it will stop them in their tracks.
They say blood is thicker than water, but that's a lie.

Trust no one. Especially family. Some are toxic.

Sad, but true.

My family committed the ultimate betrayal. So, I fled and never looked back.

I started my career behind a mask of darkness. In seclusion.

No one knows who I am.

Or my biggest secret.

When sexy and tempting Mia Bennett shows up at my gate, all my instincts start screaming. Is she working for my family?

Keep your enemies closer is the old adage.

I invite her into my lair to expose her secrets.

Yet, it is I who wants to share mine.

With little effort, she breaks down my walls. And makes me feel alive again. She gives me the courage to just be me. My heart's new melody.

But something dark and twisted lurks close to home.

With Mia's life now at stake, I have to uncover the truth.

Fast.

When an offer of support comes from an unlikely place, who do I believe?

Trusting the wrong one could be deadly.

And time is running out for us both.

Download now:

Amazon US: https://www.amazon.com/dp/B08NGNQ84W
Amazon Canada: https://www.amazon.ca/dp/B08NGNQ84W/
Amazon UK: https://www.amazon.co.uk/dp/B08NGNQ84W/
Amazon Australia: https://www.amazon.com.au/dp/B08NGNQ84W/
Cowboy is on sale for .99!
He's a hot rodeo hero from Montana. And he's about to meet the unexpected city girl who brings him to his knees …
After getting thrown and trampled by a rampaging bull six months ago, Will Finn just made his comeback in the ring. But out of it, he seems distracted — even though every woman in Bozeman wants a piece of him.
Ella Parker is an art curator from New York City who's about to lose her job and possibly her apartment. If she can just find one outstandingly talented artist, she'll finally be able to realize her dream of starting her own gallery. And when work takes her to Bozeman for an exhibition, Ella comes across a discovery that has the potential to change her life.
As their paths collide, Ella and Will find that each has something the other wants. But neither is about to give in easily, especially when sparks begin to ignite them both in ways they never even imagined …
Cowboy is a sexy standalone romance starring a grumpy rodeo hero and the sweet & sassy New Yorker who's the very last thing he expected … his new obsession, his true love and his muse (includes two OTT steamy and romantic HEA epilogues!)
Get it here: .99!
This weekend only ❤
This sale is available in the US and UK only.
It's release day for the Happily Ever Afters for Hope anthology!
10,000 more Pine Harbour words!!! Exclusively available in this collection!
All proceeds from this collection are going to UNICEF, who have just announced a dire child hunger crisis looming because of Russia's invasion of Ukraine.
This anthology is only 99 cents, a very limited time deal.
Universal book link: https://books2read.com/u/mY6ABG
Store specific links:
Amazon | Barnes & Noble | Apple Books | Google Play | Kobo