FREE FOR A LIMITED TIME!
If you haven't started my True North series then do not delay! Grumpy Griff and cheery Audrey (and the entire Shipley clan!) are not to be missed. Currently free at all etailers!
Find links for all vendors here
The King of Hockey needs a Queen.

I'm in a fake relationship with Hockey's biggest star.
His publicist needed someone to help fix his image.
And, I needed the money.
But, neither of us wanted to do it.
After all, he dates models, not physiotherapists.
And, I just got divorced and will never, ever, trust a man again.

Colton King isn't exactly likable. As a matter of fact, he's a total a-hole.
How is anyone going to believe that we are a couple?

If broody billionaire hockey jocks, plucky heroines, and evil fake sisters-in-law are your jam, you will love The Hockey Royals. Book 1, PUCK KING can be read as part of the series or as a standalone.
THE DARKEST LIE by Gena Showalter! Lords Of The Underworld Book 6
Ex-cop Charlotte Finch used to think there was a clear line between right and wrong. Then her fellow officers betrayed her, and the world is no longer so black and white. Especially when it's Aiden O'Malley, one of the most dangerous men in Boston, who offers her a chance for justice. The only catch: she'll have to pretend to be his fiancee for his plan to work.
Aiden can't afford to let anyone see the man behind the mask. To run the O'Malley empire, he has to be cool and controlled at all times. But the moment he meets Charlie, they're playing with fire. Her slightest touch is enough to send him over the edge. At first their "engagement" was a way to eliminate his enemies. Now he'll do whatever it takes to keep her safe– even if he has to destroy his own family to do it.
Own it For Only $1.99!
FREE FOR A LIMITED TIME ONLY!
Hating someone while lusting after them only adds fuel to the fire.
Raylee Silver's life has been anything but normal.
She's the daughter of a notorious gang leader. She never realised just how notorious he was.
Raylee's world is thrust into chaos as she comes to terms with losing someone close to her as well as dealing with the revelations about her family.
Never did she expect to find a light in the darkness, especially someone she hates. But Malcolm Gallagher breaks down her resolve and has her wanting things she shouldn't.
Malcolm Gallagher is out for revenge, he's seen the evil that the Silver gang have wrought.
He has the perfect person to use to get what he wants. Raylee.
Except he was never meant to fall for her.
When things come to a head, Malcolm's going all-in to protect the woman that he loves.
But what happens when her family finds out?
Can Malcolm save her before or will the Silver gang take yet another life?
International: https://mybook.to/BSHatefulUnion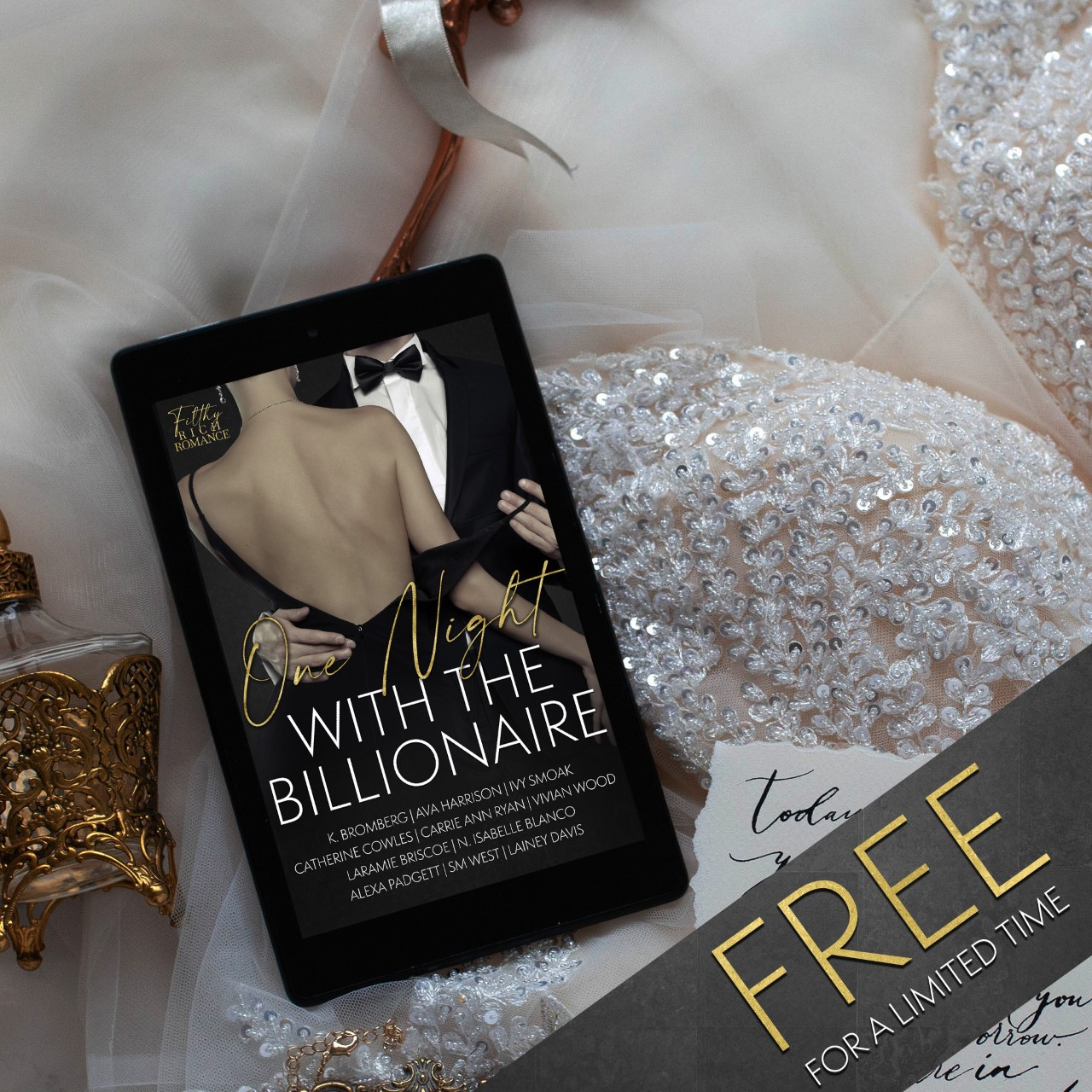 Get Eleven binge worthy Billionaire romances for FREE with One Night With The Billionaire!
K. Bromberg | Ava Harrison | Carrie Ann Ryan | Catherine Cowles |Ivy Smoak | Vivian Wood |Laramie Briscoe | N. Isabelle Blanco | Alexa Padgett | SM West | Lainey Davis
These stunning romances are FREE for a LIMITED time! Get them all in one hot download ~ https://BookHip.com/RQSAQMT
How did one camping trip go this wrong?

Caroline Park moved to Cherry Falls to raise her niece. It was supposed to be a fresh start, a clean slate for both of them. She bought the Virgin Street Diner and thought that she could lose herself in work and learning how to be a single parent.

When she finally gives in to Charlotte's plea to go camping one weekend, it's just supposed to be a one night trip, but when it starts to pour and Caroline can't see the road anymore, they're forced to stop at the nearest house for help.

Too bad for Caroline that house belongs to Heath Winters.

Heath Winters is gruff and a bit of a loner. He's also a thorn in Caroline's side and has been ever since she moved to town. Unfortunately for her, there's no other option.

Heath has wanted Caroline since he first saw her, but his lack of social skills seem to have done nothing but push her away.

Will one rainy night in his cabin be enough time for Heath to turn things around and convince his girls that they belong with him?
99c for a limited time! READ NOW
❤️He's a hot farmer with commitment issues.
❤️She's been stuck in the friend zone since kindergarten.
❤️It'll take a little Mudville crazy to knock them both out of their comfort zones…
99c in eBook (thru Aug 10) (also available in paperback)
Right now, you can add both On His Face and On His Knees to your collections for only 99c USD. This bundle will only be available for a limited time, so be sure to snag it while you can! Also in Kindle Unlimited.
Through August 9, you can get a copy of Rescue Me, the first book in my Frazier Falls Small Town series, for FREE from Amazon!
Her company is failing. His plan could save it. Will their partnership move from business to pleasure?
Carla "Carl" Stevenson takes a special joy in running the local timber mill. But when the economy takes a downturn, selling the family business may be her only heartbreaking option. After a prospective buyer takes an interest, she's horrified by his plans to raze Frazier Farms to make room for cheap cattle farming. To protect her home, she reluctantly turns to the town's most notorious player…
Owen Cooper can't believe Carl's mill is for sale. But the construction company owner is even more shocked that "Carl" is actually a beautiful woman. Moved by feelings he never saw coming, Owen drafts an ambitious plan to save the mill owner's livelihood… and maybe even win her heart.
Rallying their community around the audacious idea, Owen and Carl find their fates delightfully intertwined. But both their chemistry and the project hang in the balance when he suddenly fires her…
With the whole town at stake, will Carl and Owen save the mill and find their way to true love?

Get your FREE copy of Rescue Me here
I swore to myself that I'd never cross that line with her.
But when Savannah Monroe, my chief operations officer, shows up on my doorstep with a proposition that starts with her in my lap and a promise of just this once…The line disappears.
At fifteen years my junior and the smartest woman I've ever met, she's by far the greatest asset at Baxley Tech.
From the moment I hired her, we had a connection.
As friends, as a mentor, but always with an unspoken attraction that lingers just beneath the surface.
So when she reveals a painful secret she's been hiding from me that involves my CFO, I don't hesitate…I take care of it immediately.
Or so I thought.
But the lies and corruption go much deeper than I ever realized and now we're in a tangled web of passion and secrecy.
After our one night together, everything changes.
The thought of her in the arms of another man turns me into someone I don't recognize—insatiable, hungry.
Indulging in every filthy thought I've had about her for three years is one thing, but losing my heart in the process wasn't part of the deal.
But here's the thing about forbidden fantasies…they usually come at a price.
And this one, just might be deadly.
When a blackmailer threatens to destroy her life and everything she's worked for, I take matters into my own hands.
Because when it comes to Savannah Monroe, there is no negotiation.
No backing down.
No Limits.
No Rules.
No losing her.
We promised each other it would only be just this once.
But now that I've had a taste…I want my fill.