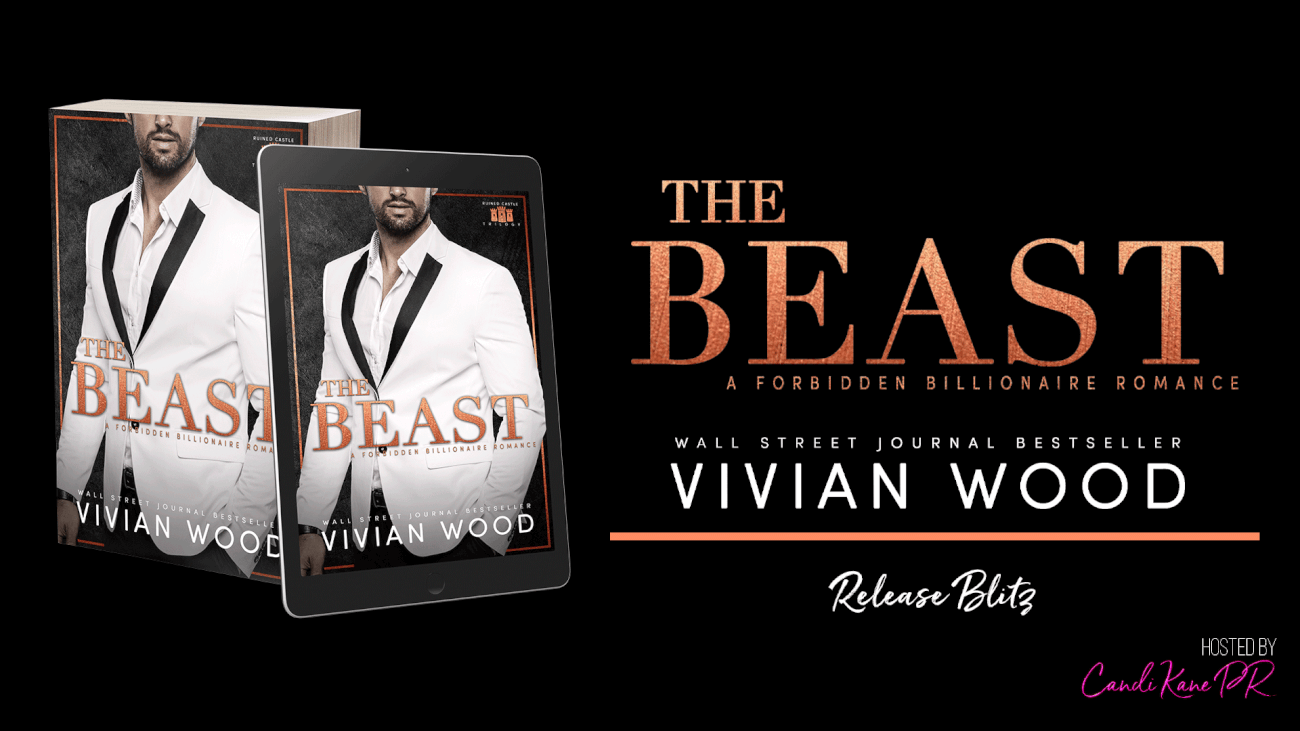 THE BEAST: A Forbidden Billionaire-Nanny Romance (Ruined Castle Series Book 2) by Vivian Wood
Release Date: August 18th
Genre/Tropes: Billionaire Antihero/Nanny/Dad Romance/Age Gap
AVAILABLE NOW!!!
Start the series for free!!!
Preorder the rest of the The Ruined Castles Series!!!
The Nanny #3: https://geni.us/vwthenanny
The Caress #4 https://geni.us/vwthecaress
Add to Goodreads:
https://www.goodreads.com/book/show/61130470-the-beast
Blurb:
"What a ****ing beast." – Every woman who's ever met me
Being a surly, driven CEO has earned me billions and lost me more assistants than I can count.
When my personal life goes off the rails, I suddenly become infamous for my temper.
Now, I am left to care for my rebellious young daughter alone.
That's when beautiful, delicate Ella comes into our lives.
A damaged former ballerina, she makes an instant connection with my wayward child.
Ella has been put in a desperate position by her own family.
So she hesitantly agrees when I ask her to be my daughter's au pair.
Being so close to Ella each day is such exquisite torture.
I can lust after her all I want, but never, ever go any further.
Ella's tempting curves beg for my hands to explore them.
With the spotlight of my job shining on both of us, I will behave myself.
…until I can't anymore.
The Beast is a contemporary billionaire romance from Wall Street Journal Bestseller Vivian Wood. It's the first full-length book in the gritty, raw, passionate Ruined Castles Series.
About the Author:
Vivian Wood is a USA Today, Wall Street Journal, and Amazon Top 20 bestselling author. She specializes in writing about damaged billionaires, ruined princesses, mouthy ballerinas, and anti-heroes that are oh so deliciously bad.
Vivian likes to write about troubled, deeply flawed alpha males and the fiery, kick-ass women who bring them to their knees.
Vivian's lasting motto in romance is a quote from a favorite song: "Soulmates never die."
Connect w/Vivian:
Facebook: https://bit.ly/2C3eZGy
Amazon: https://amzn.to/2OXb4im
Instagram: http://bit.ly/2ob66AI
Twitter: https://twitter.com/VivianKWood
Bookbub: https://bit.ly/2OhOpfd
Goodreads: http://bit.ly/2BEMRqB