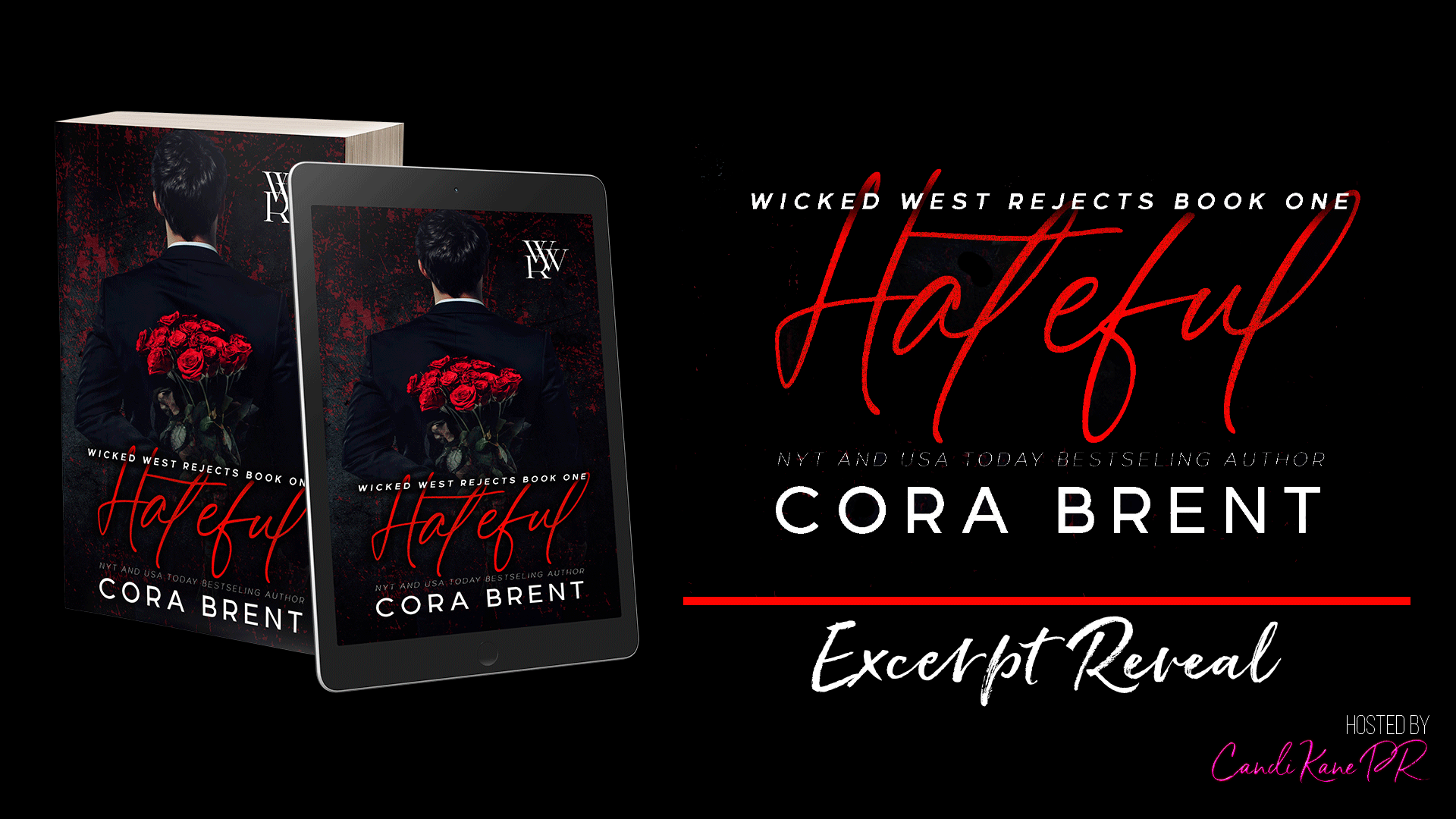 HATEFUL by CORA BRENT
Series: Wicked West Rejects
Complete Standalone
Release Date: September 15th
Genre/Tropes: Contemporary Romance/Enemies to Lovers/Romantic Suspense
Add to Goodreads:
https://www.goodreads.com/book/show/61402729-hateful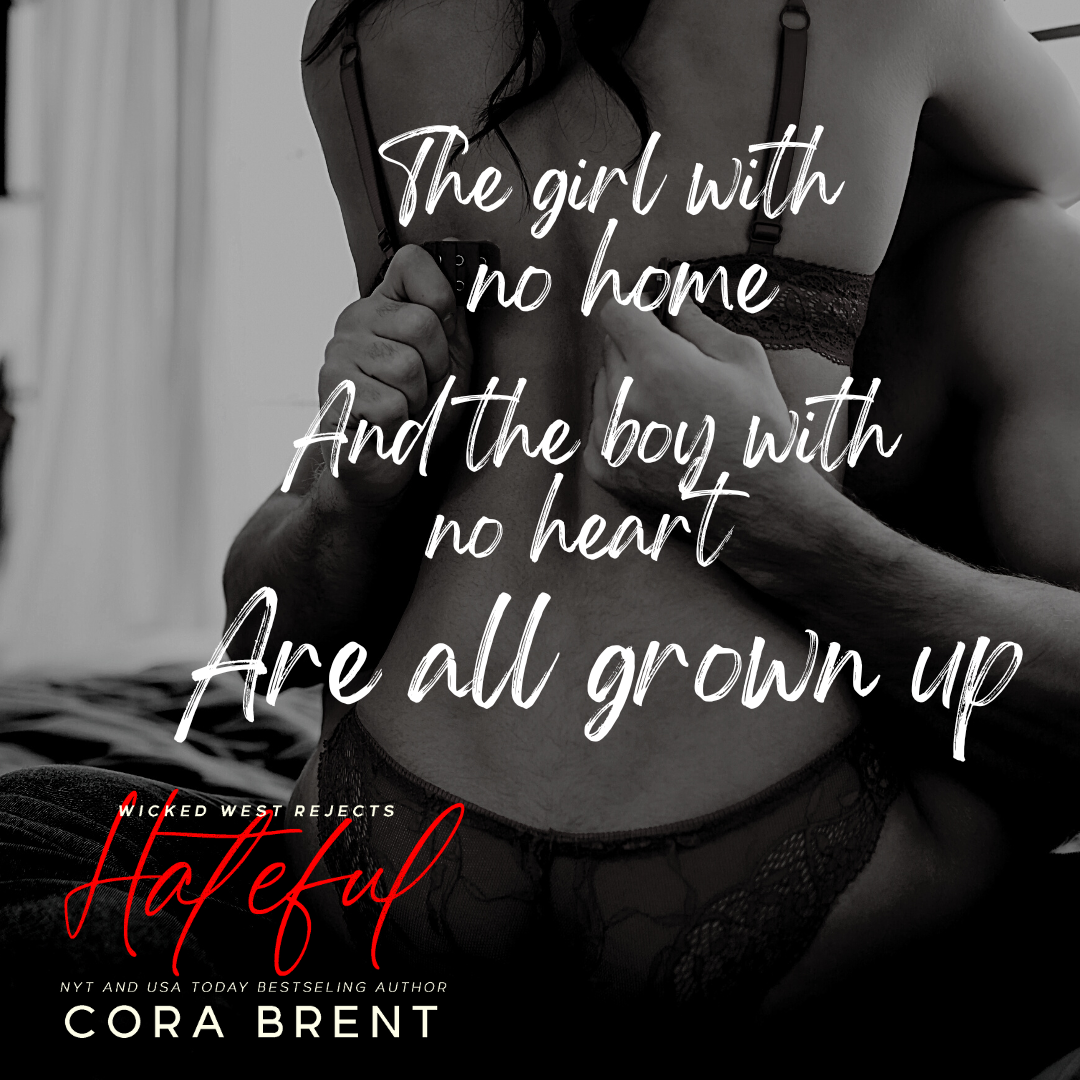 READ AN EXCERPT HERE:
The elevator pings down the hall and the doors whoosh open.
Dani's voice carries and I hear her before I see her.
"Can you believe it? Can you actually fucking believe it? Eight years without so much as a text. Now here he is, like EEEEAAAHHHH!"
With a prolonged shriek she drops her phone.
I wave at her from my casual post in the doorway.
Another door opens down the hall and a silver head pokes out. "What's going on? I'm calling the police!"
Dani has turned pale but she gathers her wits and looks back at the old man. "No, that's not necessary."
"You sure, Dani? Who the hell is that guy? Hey pal, I used to box in the Navy!"
"Thank you, Bob. It's really okay."
Bob grunts with disapproval and shuts his door with a bang.
Dani whirls on me. "What in the hell are you doing here?"
"I did warn you that you'd be seeing me soon."
"You're vacationing in the apartment across the hall from mine?"
"No, I live here."
"The hell you do."
"It's true. I bought this place last week."
"That's insane." But her face reflects a dawning understanding that I might not be full of shit after all.
And then she becomes furious.
"You realize this makes you look like a complete fucking psycho, right Gage?"
"I'm used to that."
"I'll bet."
I bend down and swipe her phone from the floor.
Dani snatches it from my hand. "I'm fine," she snaps into the phone. "I'll explain later."
I wait while she savagely shoves the thing into her purse.
She takes a deep breath. "I don't understand."
"We need to have a chat, Dorothy Ann. You want to do it here in the hallway?"
Her eyes narrow. "Piss off with your chat."
"That's not very neighborly."
"Fuck neighborly," she hisses. "You have no right to be here."
"Property laws disagree."
Her cheeks have turned a furious shade of pink. The seething glare in her eyes says that she wouldn't mind feeding me to a woodchipper.
Yet I don't look away, can't look away. No matter how much she hates me, she's still unreasonably beautiful, at ease with her own irresistible sensuality. I have to summon every scrap of my own willpower to maintain a polite distance.
Dani thinks the worst of me. And for good reason.
She has no idea that I've only ever been hers.
Even now.
But she's going to find out whether she likes it or not.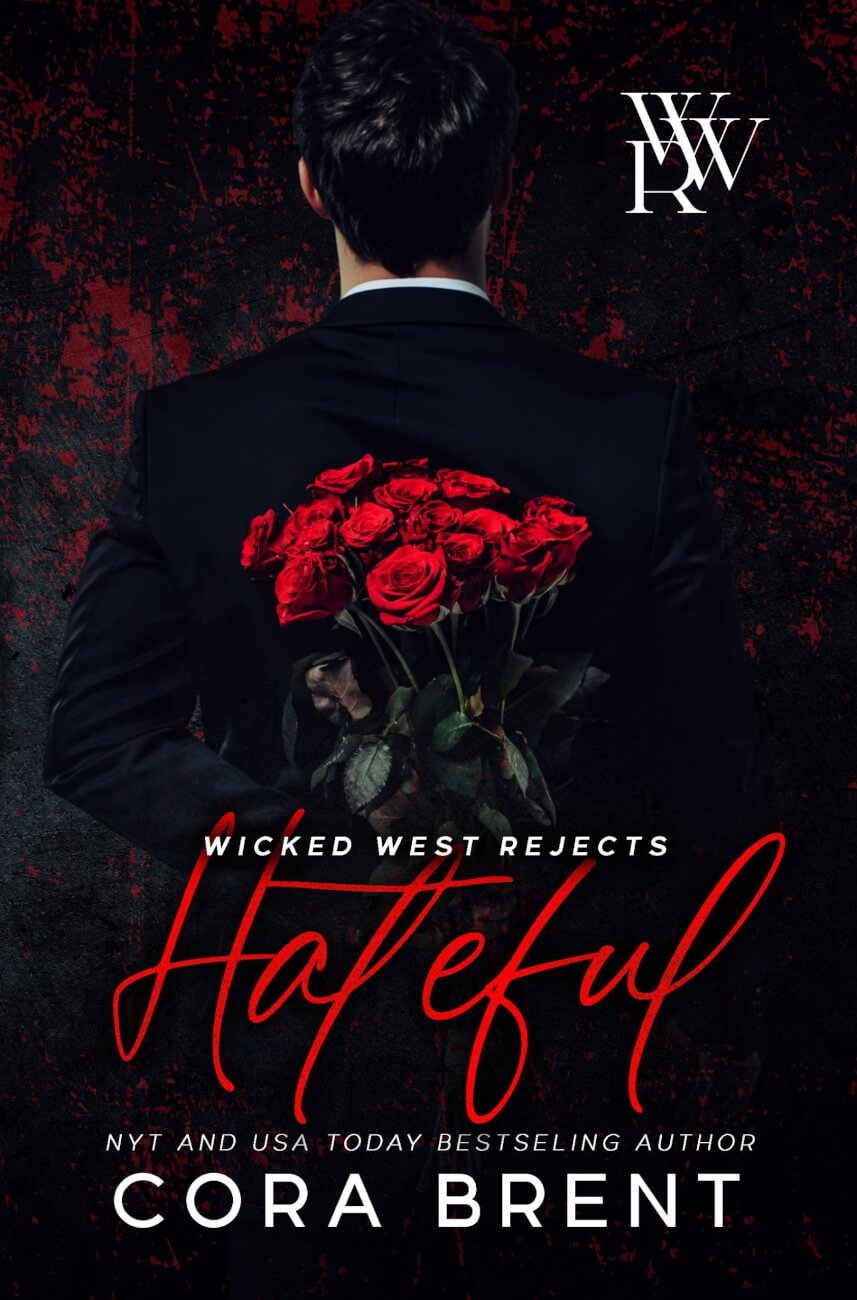 Blurb:
The warning was clear.
These three boys would be the death of me.
I was never supposed to fall for the worst of them…
At first, I thought I was lucky to have a fresh start.
Those don't come around often for a girl from the city streets.
But a fortunate chain of events has delivered me to the center of wealth and power.
And in the midst of three very different, very formidable cousins with the world at their feet.
Gage, Micah and Conner were determined to be my enemies, so I braced for a war.
They underestimated me.
I earned respect from one of them.
Friendship from another.
And I found love with the third.
Or so I thought.
Everyone who insisted Gage Argyros was heartless had to be wrong. He was just misunderstood, my unexpected soul mate.
As it turned out, I was the one who was fooled.
And I suffered for it.
We all did.
A night of terror and tragedy became a crash course in how easily love can turn to hate.
Eight years have now passed since Gage crushed my heart, betrayed my trust and then disappeared.
I thought I'd have to be crazy to give him another chance.
Until he saved my life and proved our real enemy has always been pulling the strings.
Now we'll need each other if we intend to save everyone we care about.
We'll keep our friends close.
We'll keep our enemies closer.
And we'll destroy anyone who tries to separate us again.
RELEASING SEPTEMBER 15th
Troubled Anti-Hero
HOT Slow Burn Payoff
Loyal-to-the-Death Brotherhood
Protective to the End
WICKED WEST REJECTS is a seductive new series inspired by The Wizard of Oz. Each story may be read as a stand alone.
About the Author:
Cora Brent was born in a cold climate and escaped as soon as it was legally possible. Now, she lives in the desert with her husband, two kids and a prickly pear cactus she has affectionately named 'Spot'. Cora's closet is filled with boxes of unfinished stories that date back her 1980's childhood and all her life she has dreamed of being an author. Amazingly, she is now a New York Times and USA Today bestselling writer of contemporary romance and begs not to be awakened from this dream.
Connect w/Cora:
Website: http://corabrent.com/
Facebook Page: https://www.facebook.com/CoraBrentAuthor/
Facebook Reader Group: https://www.facebook.com/groups/541636375991776/
Amazon Page: https://amzn.to/2P8Zdfu
Bookbub: https://www.bookbub.com/authors/cora-brent
Goodreads: https://www.goodreads.com/CoraBrent
Instagram: https://instagram.com/corabrentauthor
TikTok: https://vm.tiktok.com/ZMdV3jy7t/
Newsletter Signup: https://bit.ly/3wHfc8y