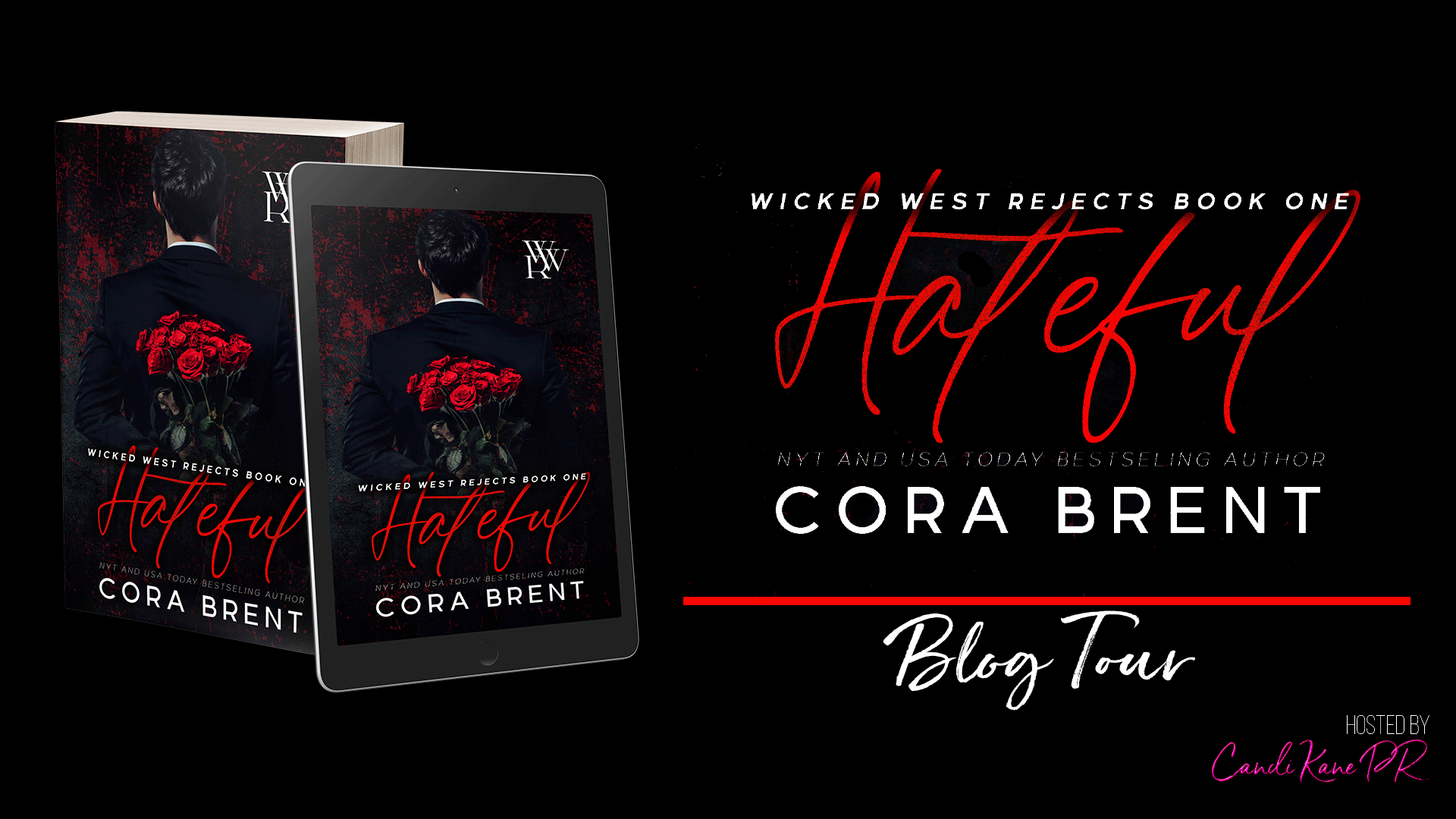 HATEFUL by CORA BRENT
Series: Wicked West Rejects
Complete Standalone
Release Date: September 15th
Genre/Tropes: Contemporary Romance/Enemies to Lovers/Romantic Suspense
HATEFUL by Cora Brent is now LIVE!!
In this gritty, contemporary spin on a classic tale, heroes are damaged, villains are disguised and all bets are off in the end.
NOW AVAILABLE!!
$2.99 FOR RELEASE WEEK ONLY!
Amazon US: https://www.amazon.com/dp/B0BFBV35WX/
Amazon UK: https://www.amazon.co.uk/dp/B0BFBV35WX/
Amazon CA: https://www.amazon.ca/dp/B0BFBV35WX/
Amazon AU: https://www.amazon.com.au/dp/B0BFBV35WX/
Amazon World: https://geni.us/HatefulWickedWest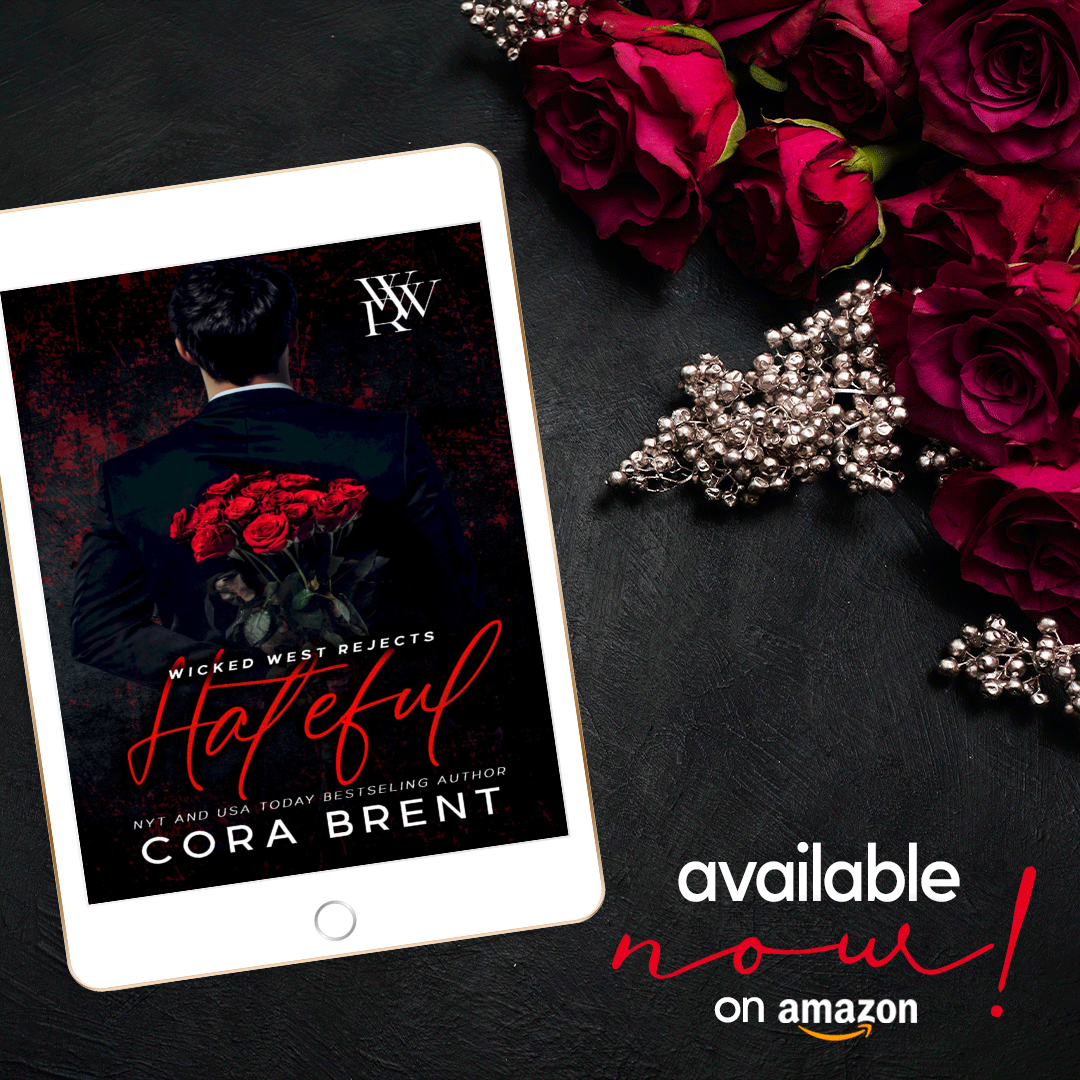 Add to Goodreads:
https://www.goodreads.com/book/show/61402729-hateful
Blurb:
The warning was clear.
These three boys would be the death of me.
I was never supposed to fall for the worst of them….
At first, I thought I was lucky to have a fresh start.
Those don't come around often for a girl from the city streets.
But a fortunate chain of events has delivered me to the center of wealth and power.
And in the midst of three very different, very formidable cousins with the world at their feet.
Gage, Micah and Conner were determined to be my enemies, so I braced for a war.
They underestimated me.
I earned respect from one of them.
Friendship from another.
And I found love with the third.
Or so I thought.
Everyone who insisted Gage Silvestro was heartless had to be wrong. He was just misunderstood, my unexpected soul mate.
As it turned out, I was the one who was fooled.
And I suffered for it.
We all did.
A night of terror and tragedy became a crash course in how easily love can turn to hate.
Eight years have now passed since Gage crushed my heart, betrayed my trust and then disappeared.
Now he's back in the form of a ruthless crime boss and I thought I'd have to be crazy to even look at him.
Until he risked his life to prove that our real enemy has always been pulling the strings…
Now we'll need each other if we intend to save everyone we care about.
We'll keep our friends close.
We'll keep our enemies closer.
And we'll destroy anyone who tries to separate us again.
About the Author:
Cora Brent was born in a cold climate and escaped as soon as it was legally possible. Now, she lives in the desert with her husband, two kids and a prickly pear cactus she has affectionately named 'Spot'. Cora's closet is filled with boxes of unfinished stories that date back her 1980's childhood and all her life she has dreamed of being an author. Amazingly, she is now a New York Times and USA Today bestselling writer of contemporary romance and begs not to be awakened from this dream.
Connect w/Cora:
Website: http://corabrent.com/
Facebook Page: https://www.facebook.com/CoraBrentAuthor/
Facebook Reader Group: https://www.facebook.com/groups/541636375991776/
Amazon Page: https://amzn.to/2P8Zdfu
Bookbub: https://www.bookbub.com/authors/cora-brent
Goodreads: https://www.goodreads.com/CoraBrent
Instagram: https://instagram.com/corabrentauthor
TikTok: https://vm.tiktok.com/ZMdV3jy7t/
Newsletter Signup: https://bit.ly/3wHfc8y