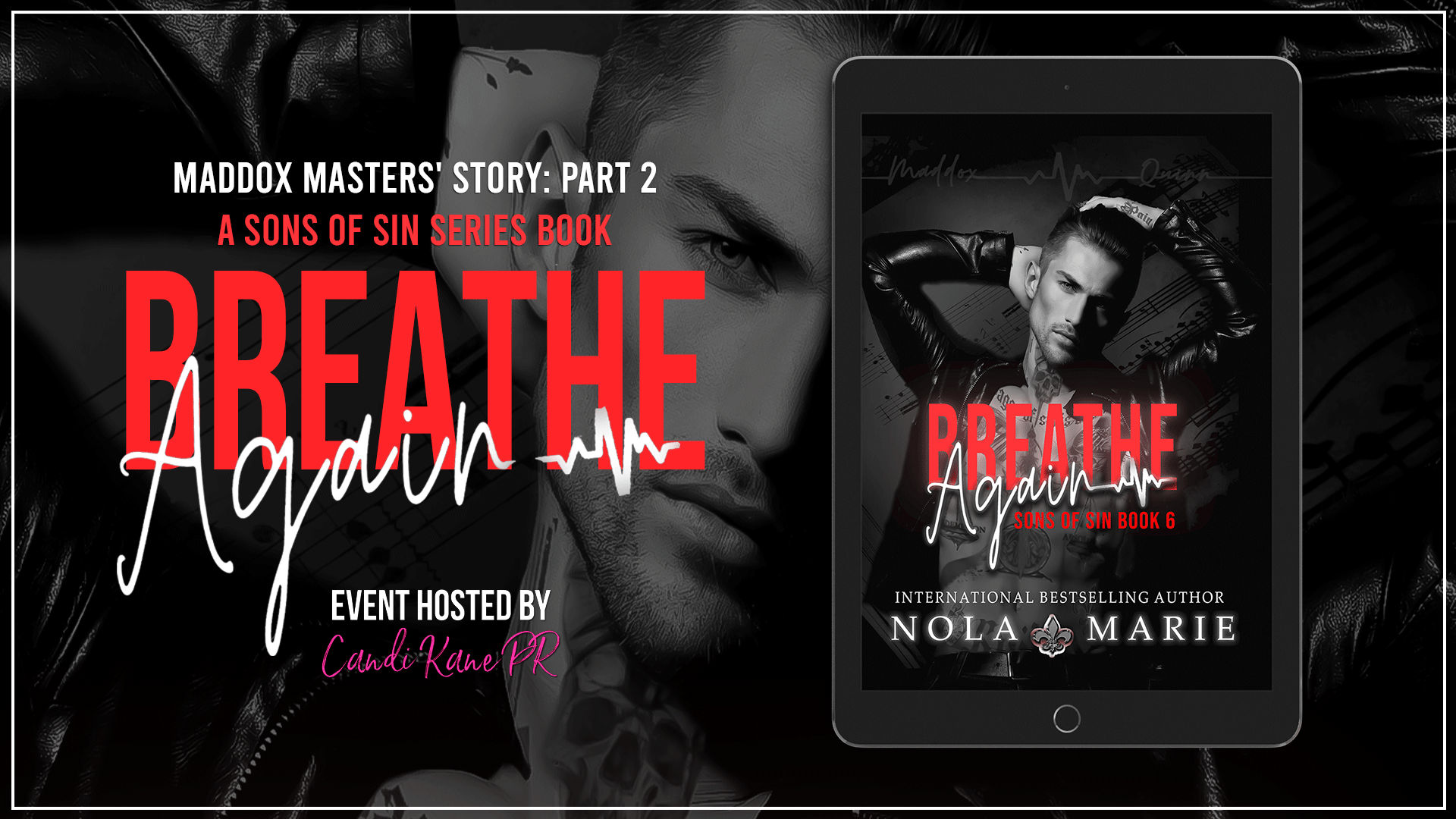 BREATHE AGAIN (Maddox Masters' story: part 2) (Sons of Sin Book 6)
Release Date: November 1st
Genre/Tropes: Dark Romance/Rockstar/Soul Mates
BREATHE AGAIN, the 6th book in the Sons of Sin series by Nola Marie is NOW LIVE!
Make sure to 1-click your copy of this all-new rockstar dark romance TODAY!
NOW AVAILABLE!
Amazon US: https://amzn.to/3CP4jYQ
Universal: https://books2read.com/u/bQjA0e
Add to GR:
https://www.goodreads.com/book/show/60618759-breathe-again
Shed My Skin should be read FIRST!!
BLURB:
Breathe Again is book 6 of the Sons of Sin series and the conclusion to book 5, Shed My Skin, which must be read first.
From International Bestselling author Nola Marie comes a Rockstar romance like you've never seen.
From the flames of sin I rose, by her virtue, I fell…
I found her in my eleventh hour. My whiskey-eyed canary. Quinn.
Call it Fate or destiny or whatever, but she is the melody to calm my madness. With her, the demons inside me quiet. She doesn't have a hold on my heart, she owns it. She is my everything.
I've been given a second-chance and I'm not about to squander it. This time, I'm not fighting to let go. I'll fight the past, my darkness, and my fear and hold on.
To her, only her, and to our future.
WARNING: This book is not for the faint of heart. It will tear your heart out and stomp on it before putting it back together. The characters are not perfect and the heroes are flawed. If you're looking for sunshine and rainbows, I suggest you try another book. But if you want real emotion with a happily ever after, then you've found your book.
Mature audiences only. Refer to nolamarie.com/sons-of-sin for full disclaimer.
About the Author
Louisiana-born and raised, Nola Marie loves spicy crawfish, rock music, high drama, and all the glitter. Full of brutal honesty and sarcasm, only the strongest survive in her presence. She is a true southern mom with the attitude and mouth to prove it and fiercely protective of those she deems worthy of her unwavering loyalty.
Evil to the bone, she rejuvenates her life forces with the blood of her characters and the tears of her readers. With books that shred your heart and burn your soul, it's no wonder she has been dubbed Mistress of Evil, and fans have given her the tagline: I live to break hearts…
Have you connected? Be sure to subscribe to my newsletter and join me on Facebook and Instagram.
Don't forget to join Nola's Naughty Nerds on Facebook where you can get recovery support from other readers.
Connect w/Nola
Facebook: facebook.com/nolamarie82
FB Reader Group: https://www.facebook.com/groups/973449193570253
Newsletter: Nolamarie.com
Instagram: instagram.com/authornolamarie
Tiktok: tiktok.com/@nolamarie_author
Twitter: twitter.com/nolamarie12
Amazon: https://amzn.to/3evrcHm
Goodreads profile: https://www.goodreads.com/author/show/20462858.Nola_Marie
Bookbub profile: https://www.bookbub.com/profile/nola-marie