RAVISHING REIGN
Aleatha Romig
Release Date: April 11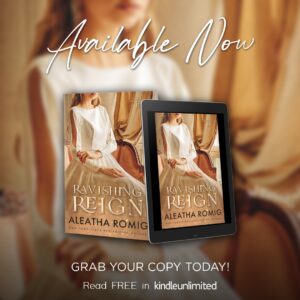 "If destruction be our lot, we must ourselves be its author and finisher." ~ Abraham Lincoln
Buried beneath the surface where Princess Lucille's world is turned upside down, she must make impossible choices. Truth or deception, life or death, loyalty or love.
Who will survive?
Have you been Aleatha'd?
From New York Times bestselling author Aleatha Romig comes a brand-new contemporary romantic-suspense series, Royal Reflections, set in the world of the royal elite, where things are not as they appear.
*RAVISHING REIGN is book three of the Royal Reflections series that began with RUTHLESS REIGN continued with RESILIENT REIGN and RAVISHING REIGN.
Grab Your Copy!
https://books2read.com/u/bPN05r
Meet Aleatha Romig:
Aleatha Romig is a New York Times, Wall Street Journal, and USA Today bestselling author who lives in Indiana. She grew up in Mishawaka, graduated from Indiana University, and is currently living south of Indianapolis. Together with her high-school sweetheart and husband of over thirty years, they've raised three children. Before she became a full-time author, she worked days as a dental hygienist and spent her nights writing. Now, when she's not imagining mind-blowing twists and turns or her new lighter side, she likes to spend her time with her family and friends. Her pastimes include reading and creating heroes/anti-heroes who haunt your dreams!
Keep up with Aleatha Romig and subscribe to her newsletter: https://www.aleatharomig.com/contact
To learn more about Aleatha Romig & her books, visit here!
Connect with Aleatha Romig:
https://www.aleatharomig.com/contact
Hosted By: