PROTEGE KING
Lisa Renee Jones
Release Date: May 16
Damion West was the boy who stole my young heart and then broke it. That was a long time ago though and I'm not a girl susceptible to hot boys with big egos who just happen to kiss well anymore. Nor have I kept up with Damion West. Okay, I have. Everyone has. He's the heir to West Enterprises, and notoriously loud on social media.
Everyone knows Damion West.
Just not like I do.
But that's another story better left untold.
It's hard sometimes to remember that I'm no slouch myself. Confidence isn't exactly my forte but I fake it well. I've worked with my parents' real estate firm catering to the rich and famous for years and I'm now one of the top agents in the country. Blue Enterprises is the name of our firm, which is also my name. Blue. Alana Blue. And now I'm on TV, the star of Selling in New York.
But every family has secrets. Damion's does and mine does as well.
That's why I have the TV show I didn't really want.
Nothing is real.
Except him. Damion. He's real. So is my past with him. But it's the past.
Then one day I get called to a meeting by the studio head, it's all very secretive.
Because it's not the studio at all, or actually, it is. Because his family owns everything.
That's right.
The meeting is with him. It's with Damion West.
And Lord help me, he's now sexier, and more arrogant than ever.
Also it turns out that what Damion wants from me isn't as simple as a real estate contract.
But it's a contract all right.
Grab Your Copy!
Amazon http://mybook.to/ProtegeKing/opt/3
Apple https://apple.co/3RwMzoW
Google Play https://bit.ly/3V6RAI7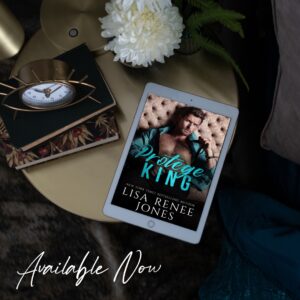 Meet Lisa Renee Jones:
New York Times and USA Today bestselling author Lisa Renee Jones is the author of the highly acclaimed INSIDE OUT series. Suzanne Todd (producer of Alice in Wonderland) on the INSIDE OUT series: Lisa has created a beautiful, complicated, and sensual world that is filled with intrigue and suspense. Sara's character is strong, flawed, complex, and sexy – a modern girl we all can identify with.
In addition to the success of Lisa's INSIDE OUT series, she has published many successful titles. The TALL, DARK AND DEADLY series and THE SECRET LIFE OF AMY BENSEN series, both spent several months on a combination of the New York Times and USA Today bestselling lists.
Prior to publishing Lisa owned multi-state staffing agency that was recognized many times by The Austin Business Journal and also praised by the Dallas Women's Magazine. In 1998 Lisa was listed as the #7 growing women owned business in Entrepreneur Magazine.
To find out about Lisa Renee Jones' upcoming releases and giveaways, sign up for her newsletter here
For more information on Lisa Renee Jones and her books visit: https://www.lisareneejones.com/
Connect with Lisa Renee Jones:
https://www.lisareneejones.com/contact.html
Hosted by: