CLAIM BY SIENNA SNOW
Release Date: May 23rd
Genre/Tropes: BDSM Romance / Brother's Best Friend /Sex Club
HOT NEW RELEASE!
Claim, book 1 of the Violent Delights Trilogy, by Sienna Snow is NOW LIVE!
Grab this all-new forbidden romance TODAY!
Amazon: https://geni.us/ClaimSS
Add to Goodreads
https://www.goodreads.com/book/show/123157649-claim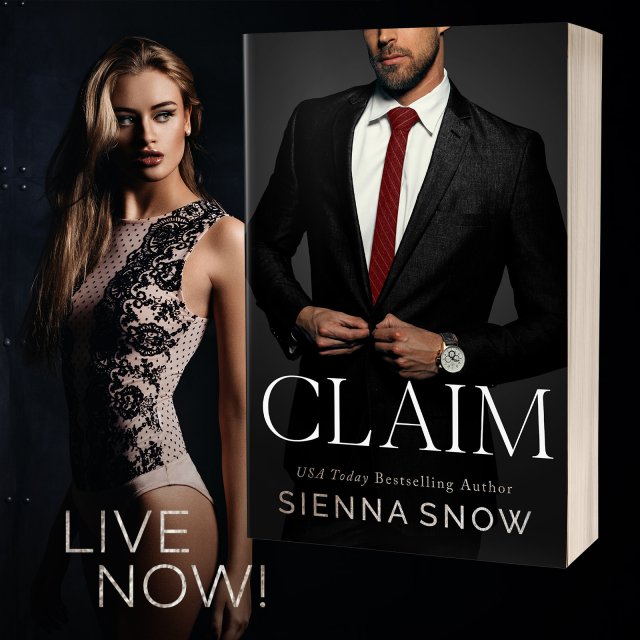 BLURB:
Damon Pierce has a dangerous reputation at Violent Delights.
As for the submissive women he plays with? They get one night only.
Any more would put them at risk.
He has no interest in emotional entanglements.
Especially not with Sophia Morelli.
She's too brazen. Too beautiful.
And the sister of one of his closest friends.
Still, he finds himself drawn to her beckoning sensuality, her mouthy attitude, and the compelling innocence he discovers under her bold facade. Despite how much he may wish for it, nothing can change the past…or the very real danger he poses to her right now.
CLAIM is book one in a new series from USA Today bestselling author Sienna Snow. New readers can definitely start right here with book one of the Violent Delights trilogy!
About the Author
Inspired by her years working in corporate America, Sienna loves to serve up stories woven around confident and successful women who know what they want and how to get it, both in – and out – of the bedroom.
Her heroines are fresh, well-educated, and often find love and romance through atypical circumstances. Sienna treats her readers to enticing slices of hot romance infused with empowerment and indulgent satisfaction.
Sienna loves the life of travel and adventure. She plans to visit even the farthest corners of the world and delight in experiencing the variety of cultures along the way. When she isn't writing or traveling, Sienna is working on her "happily ever after" with her husband and children.
Connect with Sienna
Website – https://siennasnow.com/
Facebook – https://www.facebook.com/authorsiennasnow/
Instagram – https://www.instagram.com/bysiennasnow
Twitter – https://twitter.com/sienna_snow
Goodreads – https://www.goodreads.com/author/show/15076071.Sienna_Snow
Bookbub – https://www.bookbub.com/authors/sienna-snow