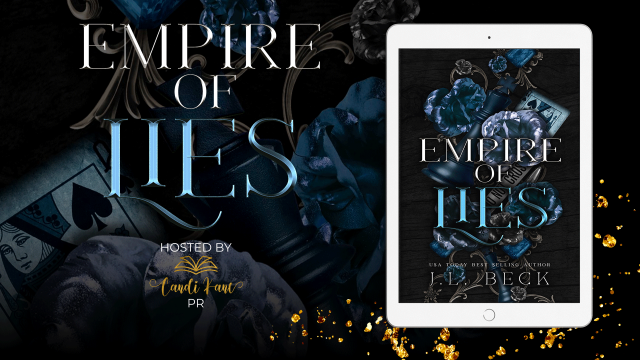 EMPIRE OF LIES by JL. Beck
Book 2 of the Torrio Empire
Release Date: May 19th
Tropes: Best Friends Dad / Mafia Romance / Billionaire Romance / Age Gap
EMPIRE OF LIES, book 2 of The Torrio Empire Series, by JL Beck is NOW LIVE!!
Grab this all-new Mafia Romance TODAY!
Start the trilogy with EMPIRE OF LUST
Add to Goodreads:
https://www.goodreads.com/book/show/122966347-empire-of-lies
Blurb:
My life used to be simple.
Quiet. Safe.
Until I fell in love with the dangerous billionaire arms dealer Callum Torrio.
Our love story was doomed from the beginning. Forbidden. A temptation we couldn't touch.
His secrets have the power to kill me, and when I discover the hidden truth and the part he played in my mother's death, I have no choice but to run.
But nothing will stop him from keeping me by his side.
A king needs his queen.
Where do you hide when the pain becomes suffocating and the man you thought you knew turns out to be the villain?
**This is book 2 in the Torrio Trilogy and is not a standalone. Please start with book 1 Empire of Lust. This book contains material that might be sensitive to some readers. Please check the trigger warning at the beginning of the book for my details.**
About JL Beck:
J.L. Beck writes steamy romance that's unapologetic.
Her heroes are alphas who take what they want, and are willing to do anything for the woman they love.
She loves writing about darkness, passion, suspense, and of course steam.
Leaving her readers gasping, and asking what the hell just happened is only one of her many tricks.
Her books range from grey, too dark but always end with a happily ever after.
Inside the pages of her books you'll always find one of your favorite tropes.
She started her writing career in the summer of 2014 and hasn't stopped since. She lives in Wisconsin and is a mom to two, a wife, and likes to act as a literary agent part time.
Visit her website for more info:
Connect with JL Beck:
Facebook: https://www.facebook.com/AuthorJLBeck/
Instagram: https://www.instagram.com/authorjlbeck/
Amazon: http://amzn.to/2srbge9
Bookbub: http://bit.ly/2tOVZl8
Goodreads: https://www.goodreads.com/author/show/8425041.J_L_Beck
Unapologetic Romance Book Club FB Group: http://bit.ly/2sWljZG