BLACKMAIL by Amelia Wilde
Release Date: August 2nd
AVAILABLE NOW!!!
Amazon: https://amzn.to/36o8Wf1
Amazon INTL: https://bit.ly/3JH5XfY
Apple Books: https://apple.co/3JEEc7N
Kobo: https://bit.ly/3qwqix1
Barnes & Noble: https://bit.ly/3jXucvi
Google Play: https://bit.ly/3uYqBTY
Add to Goodreads:
https://www.goodreads.com/book/show/60673854-blackmail
Blurb:
Bristol Anderson will do anything to protect her younger siblings. Even if it means embezzling from the company where she's a temp. No one will find out. And the wealthy owner of the venture capitalist firm will never notice.
Except Will LeBlanc doesn't miss a thing.
He could call the police, but he has more interesting plans for her. In the copy room. On the conference table. Under his desk.
The coldhearted capitalist will make her pay back every last cent.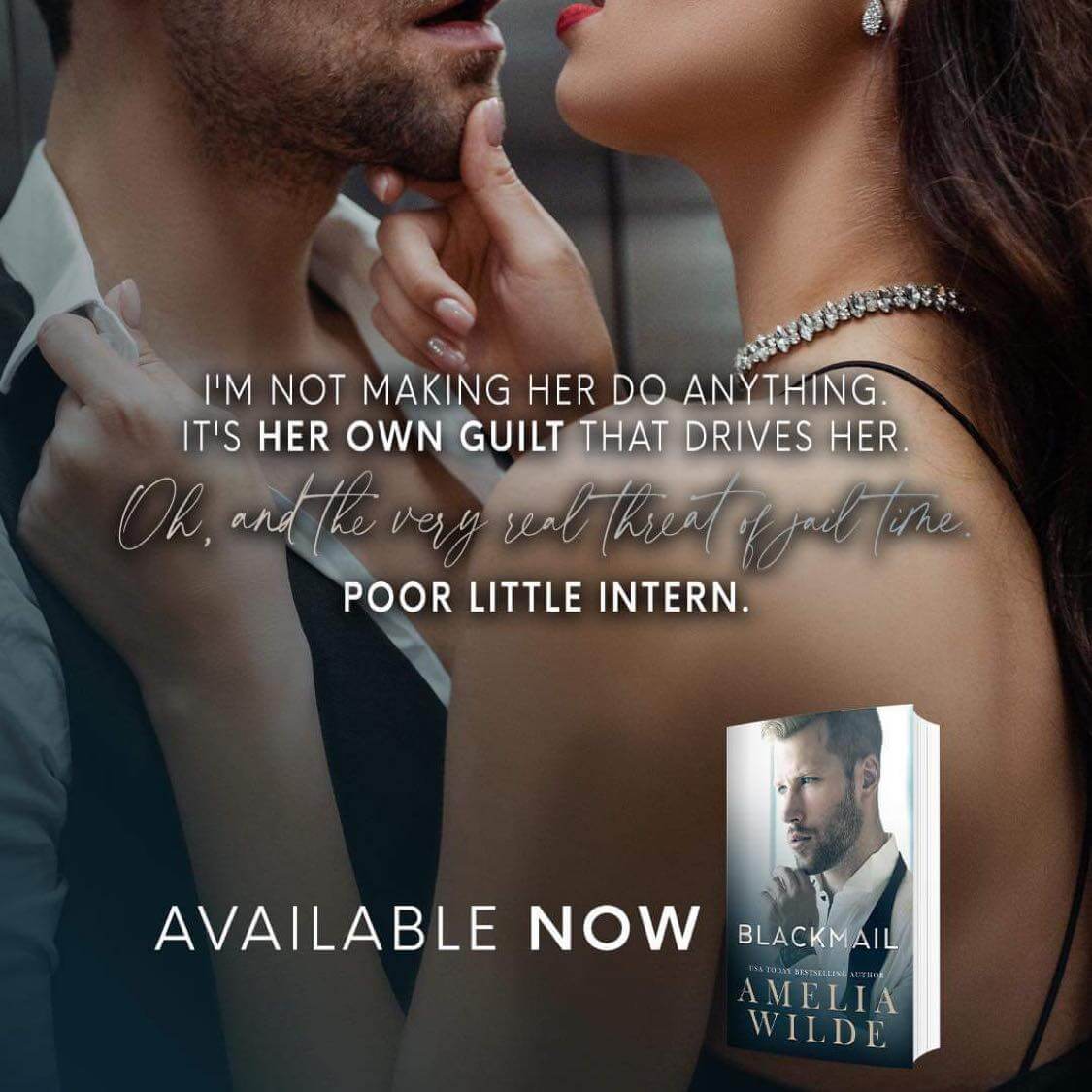 MY REVIEW:
Intense sizzler! I've been waiting on Will's story since he appeared in brother Emerson's trilogy and wow, I thought Em was broken. Well, he was and so is Will with demons that are dark and dangerous. This starts out hot as the sexy businessman does his temp secretary dirty. Bristol is a beauty with a bad home life and two siblings she takes care of. She's all heart even when her dastardly boss blackmails her into acts of hot sexy passion. Will is not all bad and when in need he comes to Bristol's rescue. We get glimpses of Will's childhood and if you've read Emerson's stories then you know a lot of it. It seems like there's more to tell with Will's story and I can't wait for it all to come out. I had a bit of a hard time connecting with Will and his drama. Who really fights like that on top of his childhood and doesn't suffer brain trauma? Will I guess because he still kills it in business. Speaking of…I loved the glimpses of Finn Hughes as well as Poseidon and a few others especially brother Sinclair. Shivers! I'm looking forward to Sin's story. I loved Bristol with her sweet nature and love for her siblings. She is a good foil for Will. Bristol just needs to kick her horrible father to the curb. I suspect there's more bad things to come with him. This was a quick read that abruptly ends with Bristol out in the cold and Will onto other adventures. I look forward to the next installment. This didn't have the passionate punch and brutal love that I'm used to from this fabulous author but it's still worth the read.
About the Author:
Amelia Wilde is a USA TODAY bestselling author of steamy contemporary romance and loves it a little too much. She lives in Michigan with her husband and daughters. She spends most of her time typing furiously on an iPad and appreciating the natural splendor of her home state from where she likes it best: inside.
Connect w/Amelia:
Website: https://awilderomance.com/
Facebook: https://www.facebook.com/awilderomance
Facebook Group: http://bit.ly/letsgetwilde
Twitter: https://twitter.com/awilderomance
Instagram: https://instagram.com/awilderomance
Pinterest: https://www.pinterest.com/awilderomance/
Goodreads: https://www.goodreads.com/author/show/14671616.Amelia_Wilde
Amazon: https://amzn.to/2QIKg4R
Bookbub: https://www.bookbub.com/authors/amelia-wilde
Newsletter Signup: https://www.subscribepage.com/ameliawilde