FORCE OF NATURE by Skye Warren and Amelia Wilde
Release Date: August 9th
Genre/Tropes: Contemporary Romance/Forced Proximity/Threesome
NOW AVAILABLE!!!
Amazon: https://amzn.to/3NtN0OU
Amazon INTL: https://bit.ly/3ufRu4Q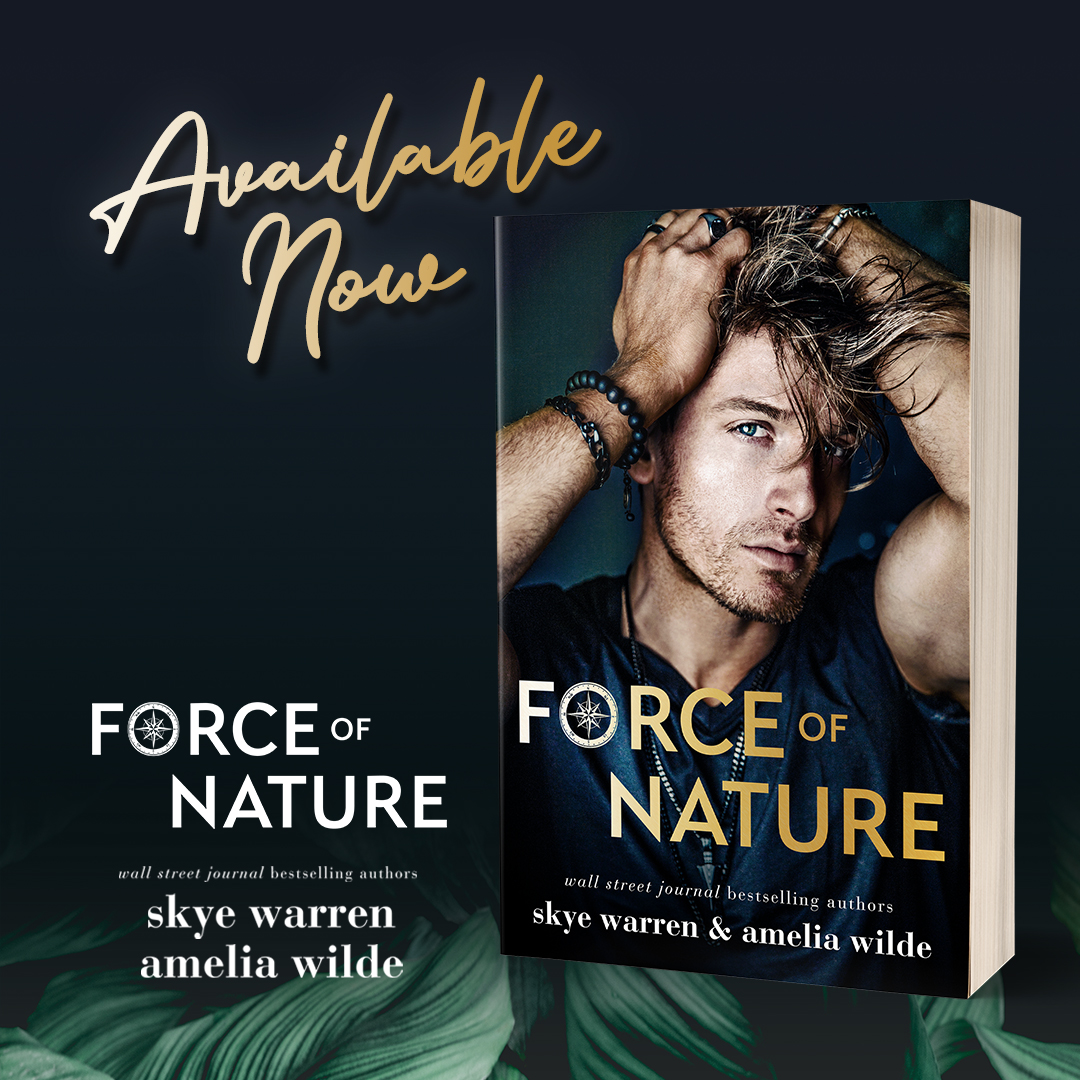 ADD TO GOODREADS:
https://www.goodreads.com/book/show/61379335-force-of-nature
Blurb:
Carter Morelli survived a violent childhood and dangerous missions. After he emergency lands the small aircraft, he faces something even worse: having someone depend on him. Geologis June Porter wants to study rocks. She didn't plan to be stranded on a deserted island.
They aren't alone on the island. A man hides among the broad leaves. He's almost feral, this man. But he provides them shelter and food.
There are secrets in his hidden cabin. Desire, too.
Carter doesn't want to care about the bookish, beautiful June.
But he doesn't like this strange man's interest in her, either.
Simmering chemistry wars with the need for survival.
Will they be found before they give into temptation?
MY REVIEW:
Holy Smoke! I did not expect this, but I should have with these fabulous authors. It's dangerous, dizzying, exotic, and smoking hot. This is a continuation of The Crash novella, which is included in this book, and it's all intense action right from the start as Carter and June run for their lives with the exotic island habitat as much a foe as friend. It's not long before our couple is hit with a disaster and help comes from an unlikely source. Does the jungle have eyes? Yes it does, in the form of one hot hunk that's all island brute. I did not see this coming or the spicy heat that develops between one sexy beauty, one Morelli beast and one brute with loads of issues. Those issues play a significant role in the story. Theo was a terrific addition and the magnetism between him and Carter is delicious and so manly. And then there's the attraction between June and her two fellas. Three way anyone? Yes! I loved Carter in this story as his dark Morelli side came out. Shivers! The threat of danger from Carter's mission is ever present as Carter wonders if Theo is all he seems. Carter has a plan but can he execute before something terrible happens? Well, that jaw dropping ending left me reeling and answers one question with so many more that has me wanting the next installment now. This installment in the series was outstanding with intense mystery, intrigue, danger and passionate heat. Absolutely terrific and a must read!
About Skye:
Skye Warren is the New York Times bestselling author of dangerous romance. Her books have sold over one million copies. She makes her home in Texas with her loving family, sweet dogs, and evil cat.
Connect w/Skye
Website: http://www.skyewarren.com/books/
Facebook: https://www.facebook.com/skyewarren
Twitter: https://twitter.com/skye_warren
Instagram: https://instagram.com/skyewarrenbooks/
YouTube: https://www.youtube.com/SkyeWarrenBooks
Pinterest: https://www.pinterest.com/skyewarren/
Newsletter Signup: http://bit.ly/SkyeWarrensVIPReaderList
About Amelia:
Amelia Wilde is a USA TODAY bestselling author of steamy contemporary romance and loves it a little too much. She lives in Michigan with her husband and daughters. She spends most of her time typing furiously on an iPad and appreciating the natural splendor of her home state from where she likes it best: inside.
Connect w/Amelia:
Website: https://awilderomance.com/
Facebook: https://www.facebook.com/awilderomance
Facebook Group: http://bit.ly/letsgetwilde
Twitter: https://twitter.com/awilderomance
Instagram: https://instagram.com/awilderomance
Pinterest: https://www.pinterest.com/awilderomance/
Goodreads: https://www.goodreads.com/author/show/14671616.Amelia_Wilde
Amazon: https://amzn.to/2QIKg4R
Bookbub: https://www.bookbub.com/authors/amelia-wilde
Newsletter Signup: https://www.subscribepage.com/ameliawilde