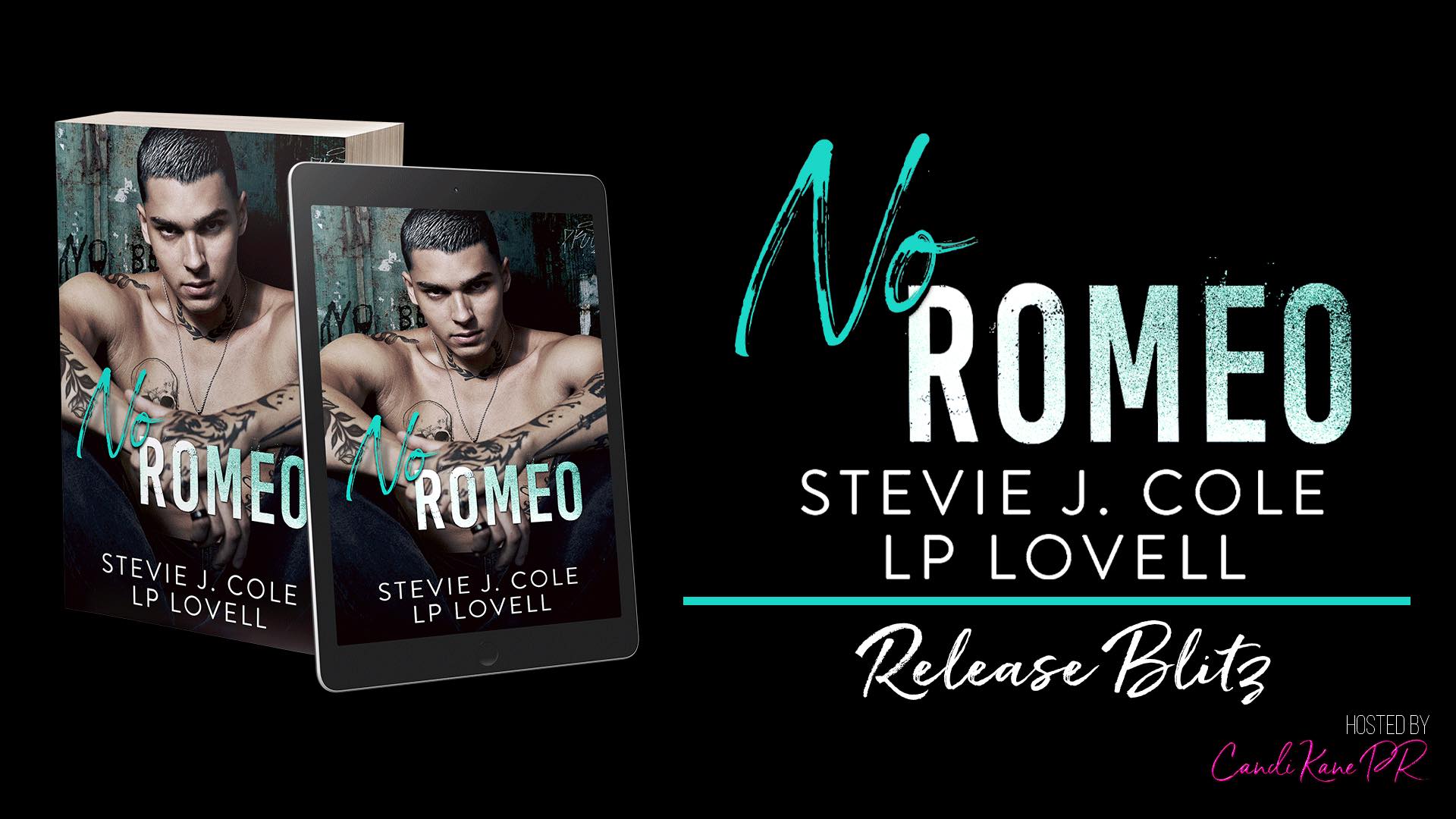 NO ROMEO by Stevie J. Cole & LP Lovell
Release Date: September 16th
Genres/Tropes: High School Romance/Enemies to Lovers
No Romeo is book 3 of the Dayton High Series, a series of complete standalones.
NOW AVAILABLE!
Add to Goodreads:
https://www.goodreads.com/book/show/59480189-no-romeo
Blurb:
To everyone in Dayton, Hendrix Hunt was the tattooed bad boy, the bully, the player. The guys hated and feared him; the girls wanted to tame him. And I just wished I could forget him.
Two years ago, Hendrix was my world. My hero, my savior. Then the taint of Dayton ruined everything, breaking both of us with secrets and lies. I destroyed him and now he wants to destroy me…
They say love is patient, that love is kind, but when a love is broken, it becomes filled with jealousy and revenge. The only question is, who will pay first?
Hendrix Hunt was no Romeo, but just like Juliet, I was in love with my enemy.
MY REVIEW:
So friggin' good! I love this wild series with these older teens living a rough life. No parents, raising themselves and if they're lucky throw an older sibling in the mix. The first two books were outstanding and this follows in that same vein. I didn't know how these fabulous authors would hold true to the craziness that is Hendrix but they did. All that absurd, wild, nasty behavior is there with beautiful extra layers that show how special this guy is. I was laughing and crying and cringing as Hendrix throws all his vitriol at his ex girlfriend, and everyone else. This guy is too much! Sexy, hilarious and the ultimate bad boy. The ex is a special breed of complicated young woman with a traumatic past and no real future. Lola stole my heart with her devotion to her sister, her unfathomable choices and her love for Hendrix. The love between Lola and Hendrix was so beautiful with lovely emotion and sizzling heat. There's a mystery surrounding her breakup with Hendrix which plays out during the story. It's so sad and painful and Hendrix's response is just perfect. I love group of characters in a grim setting, with horrible parents and no future in sight. Living on the wrong side of the tracks in Dayton with glimpses of the good life that is the flip side of their reality. The rich Barrington folks make appearances in the story, some good and some bad. There wasn't as much of the fighting between the teens/schools like in the first two stories but that's okay. I loved how the authors didn't go with the same plot points and gave us something fresh. The romance was so sweet at times and Hendrix really did shine. Other times it was crazy with jealousy and revenge and nasty sex. Lola was a perfect match for Hendrix. Their money making antics were hilarious. The others in this group make appearances in the story and Wolf is the only one left of the guy friends and I can't wait for his story. I hope the youngsters Gracie and Arlo get stories. And what was up with Lola's bestie Kyle and golden boy Chad? Could we get an MM story, please? I would love it. This is the best of the best in the genre. So much emotion and a bit of angst as these teens fight their circumstances, are fiercely loyal and love so big. The author duo is outstanding! A must read!
About Stevie J. Cole:
Stevie J. Cole likes to write realistic stories with raw, gritty characters you should hate but can't help but to love.
She's obsessed with rock music, loves sloths, and has an unnatural obsession with British accents.
Her books are not recommended for the faint of heart.
Connect w/Stevie:
Website: https://www.steviejcolebooks.com
Facebook: https://www.facebook.com/authorsteviejcole
Twitter: https://twitter.com/StevieJCole
Instagram: https://www.instagram.com/StevieJCole
Goodreads: https://www.goodreads.com/author/show/7736491.Stevie_J_Cole
Amazon: https://www.amazon.com/Stevie-J.-Cole/e/B00K9PK3EY
Bookbub: https://www.bookbub.com/authors/stevie-j-cole
**********************
About LP Lovell:
Lauren Lovell is a ginger from England.
She suffers from a total lack of brain to mouth filter and is the friend you have to explain before you introduce her to anyone, and apologise for afterwards.
Lauren loves a mildly…or not so mildly psychopathic hero, and a dark, twisted tale.
If you like like your boys very very bad, then hop on in.
Connect w/LP:
Website: http://lplovell.co.uk
Facebook: https://www.facebook.com/lplovellauthor
Facebook Group: https://www.facebook.com/groups/308860072628711
Instagram: https://www.instagram.com/lp_lovell/
Twitter: http://www.twitter.com/Authorlplovell
Goodreads: https://www.goodreads.com/author/show/7850247.L_P_Lovel
Amazon: https://amzn.to/3b04aBV
Bookbub: https://www.bookbub.com/authors/lp-lovell
NL Signup: http://lplovell.co.uk/newsletter